Do you need a Yoga Staycation?
If your life is not allowing you to take a real vacation this summer, wouldn't it be nice to bring those qualities of a vacation to your everyday situation?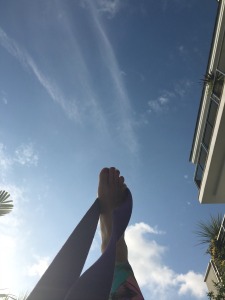 It is not as hard as you think if you create routines and structures that allow your inner world to have mini-vacations each day. The wonderful folks of YogAAnatomy.net where I trained in Principles of Yoga Anatomy invited all its graduates and current students to go on a journey – a yoga staycation.  In preparation for our trip, they told us the story of "Goldilocks and the Three Elephants".  It's a twist on the more famous story.  But Goldilocks got over her limiting beliefs about who she was and what she was capable of by having the courage to visit the bears and find the "Just Right" for her.  The elephants, on the other hand, were representations of patience (one bite at a time), pleasure (you will stick with something if you enjoy it) and paying attention (all the tools for your success are right in front of you if you are mindful).  The full stories are being told in my yoga classes. In our staycation instruction manual, we were encouraged by our Activity Director Ganesha, an elephant that is helpful in removing blocks, to pack two hats – the grandma hat and the mad scientist hat.  The grandma hat was considered important for self-care and kindness while the mad scientist hat would be used for generating a mindset that encourages exploration, experimentation, and observation without judgment.
We were also encouraged to journal daily in the third person (easier on our ego), participate in some crafts or music and plan time to rest and change up our routine (going for a hike instead of working out at the gym, for instance).  Since we were visiting a foreign country, it was important for us to study the local customs and code words that would help us make the most of our staycation – Willpower Depletion—the concept that we can only 'force ourselves to do something for so long before we quit unless we have a support structure known as the Guiding Structure. Priming was another new word and it means consciously influencing your brain's pattern matching capabilities. Kelsey Kaufman, author of this program explained that if you want to add a new habit like meditating daily and you make your coffee at the same time each morning, put a note on your coffee pot reminding you to meditate.  The magical phrase she taught us was simply "What would it look like if…. (fill in the blanks)"
If this sounds like a bunch of mumbo jumbo, well don't judge it till you have tried it.  All of us get stuck in ruts or get to places in our life where we know we are unhappy, but can't quite figure out how to improve our current circumstances.  A Yoga Staycation, (thank you, Yoga Anatomy) is a great idea because it helps you grow while having the freedom, fun and positive feedback of a vacation right at home.  You might just reframe your mind and body enough to bring the peaceful elements back to our daily life no matter what you are facing.  Maybe you will have some new tools to help you move you forward.  Let me help you on your journey.  If you are local to Southwest Florida, come to one of my public offerings of yoga or bring me to your home for a private or semi-private. I am also exploring offering long distance yoga and health tips.  Stay tuned.
I wish you health and joy in your day.  Namaste,  Andrea
Heaven Lane Creations – Designing custom yoga classes to meet your physical, emotional and health needs. Designing individualized doTERRA oil routines for your health.  Designing custom made jewelry to fit your style.
2 Responses to Do you need a Yoga Staycation?