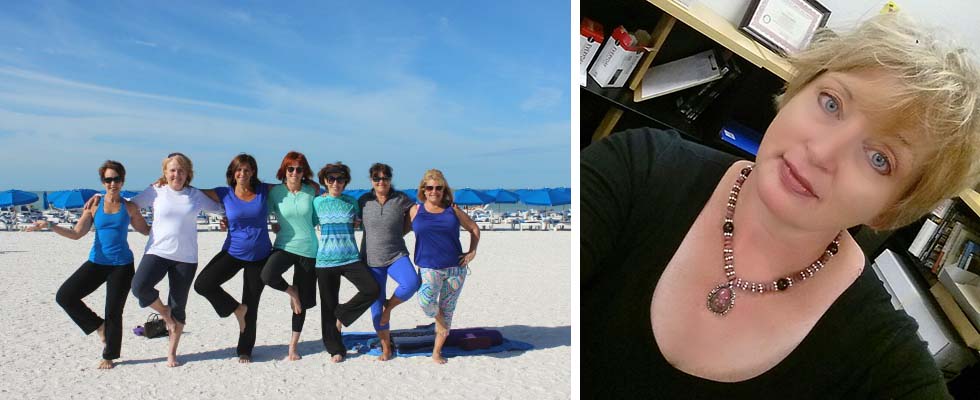 One of my greatest passions in life is being of service and making people happy. I love the opportunity to sit down and create a custom, one of a kind jewelry piece for a special occasion or guide someone on their personal journey to healthier living with my yoga classes, essential oils, healthy recipes or wellness workshops. 
Here are just a few samples of what my clients are saying about their Heaven Lane experience. If you would like to see your name and photo on this list please feel free to contact me now!
I have been breathing so strong today, probably bringing in 50% more oxygen. Got so much done. Feel terrific. Wow! Heavenly experience. Thank you!
Yoga on the beach was amazing! Namaste!
Yoga on the beach with Andrea is a real treat! Namaste!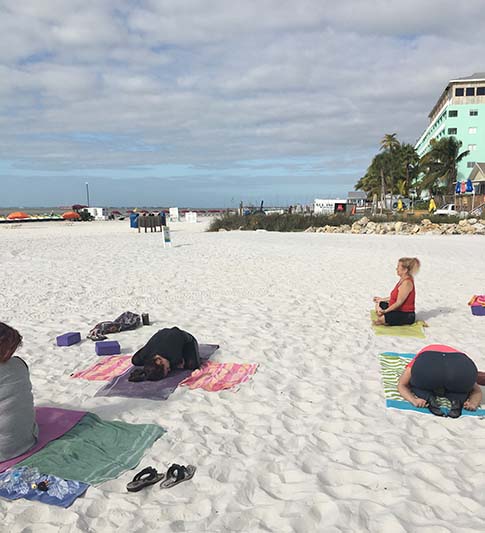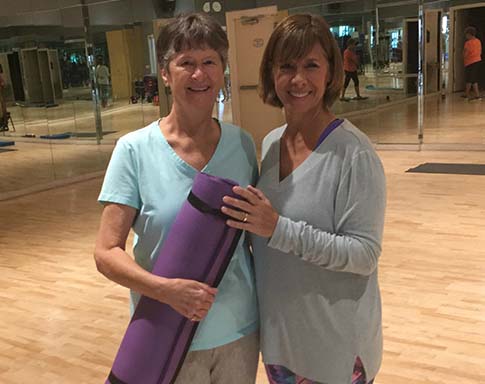 I have come to yoga late in my life and Andrea has taught me with caring help and nurtures me in every class with her.  She has assisted me with the proper position making sure to avoid injury while enjoying the benefits of the session.  She does not rush the class and explains the benefits for the body.   She teaches with such variety that avoids routine and I am eager to see what she designs each class.   Her class is so beneficial for my "older body" and the energy I gain is amazing.  She has been teacher, mentor and friend.  If the opportunity opens, join in for good health and fun. 
I first met Andrea when she subbed for an instructor for a class I was taking.  When I saw that I had a different instructor, I felt disappointed.  Little did I know what an impact she would have on me.  I can't say enough good things about Andrea.  First, and most importantly, she is a wonderful human being.  She is a very good yoga teacher.  I very much appreciate how she always is able to modify what I do if I can't do it exactly the way I feel I should.  I also met with Andrea on a weekly basis for wellness counseling.  She has helped with supplements, advice and lots of great information and encouragement that is truly helping me feel so much better.  I am so grateful to have met someone who really cares about people, is so knowledgeable, funny and kind.  I recommend Andrea to anyone who wants to improve their life.  She has truly helped me tremendously and I will be forever grateful.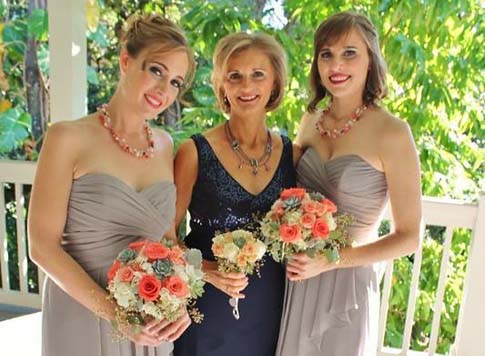 I received many compliments on the necklace, earrings and bracelet that Andrea made for me for my daughter's wedding.  She is so diligent she even carried my shoe to the store to match the color of the beads on the shoes.  The pieces are exquisite.  In addition, she also made necklaces to capture the colors of the wedding for the bridesmaids (the sisters of the bride).  When these pieces are worn, people comment on their beauty every time!
I love my necklaces and earrings designed by Andrea. I get so many compliments each time I wear them. They have become "my go to jewelry" every day. I definitely will be purchasing more. Thanks Andrea!
I look forward to my yoga practice every week with Andrea. She is by far the best yoga instructor I have ever had. She has a gift for creating an atmosphere that is welcoming and making yogis feel at ease and comfortable. I recently attended Kripalu, a well known Health and Welness center in Lenox, Massachusetts. During my stay, I attended a wide variety of yoga classes,meditation and lectures. I soon realized, that we have our very own small Kripalu with Andrea. Given her depth of knowledge, organizational skills and most of all her generous personality, I am privileged to have her for an instructor.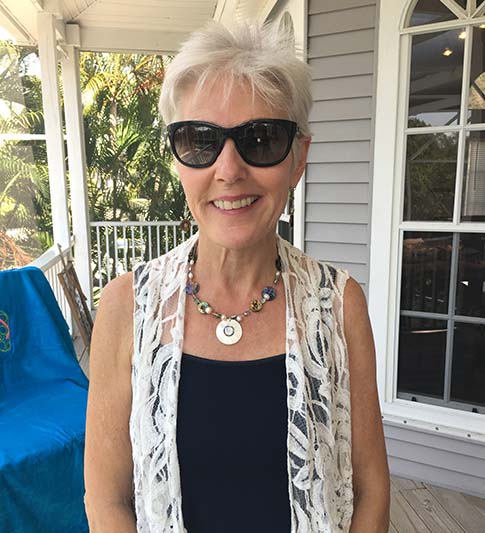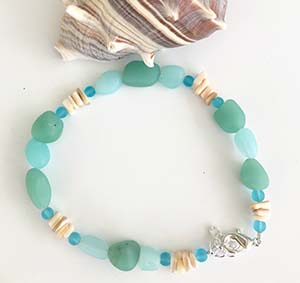 "I received the anklet and I just love it! The colors are so gorgeous and it fits perfectly. Can't wait to get down to the beach to show it off."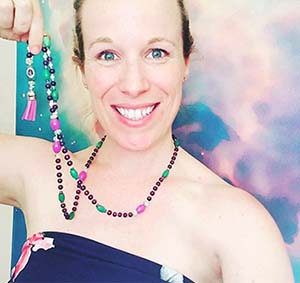 "I am obsessed with my new mala created by the insanely talented Heaven Lane Creations. THANK YOU SO MUCH Andrea" 
I absolutely love this piece! I have received so many compliments and I can wear to work or play. It's a very eye-catching piece.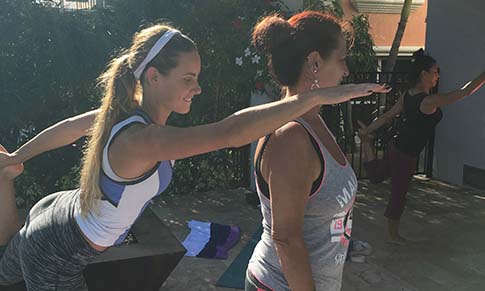 Andrea has helped us sculpt not only our bodies but our minds.  Andrea has a wealth of knowledge in many wellness areas.  She does not just show up to teach a class, it is her passion, and she is beyond willing to share her knowledge.  Andrea is a true gem.
I am going to my niece's engagement party Memorial weekend and I will be picking out a new dress to match these pieces of jewelry that Andrea so beautifully pieced together. The picture is what caught my eye, but now that I have it in my hands, the picture doesn't do it justice. She so graciously let me purchase it before it went into her shop and I received it lightning fast. A perfect handmade present to myself. I can't wait until dress up time!!! Thank you, Andrea, your creativity rocks and you can see it in these.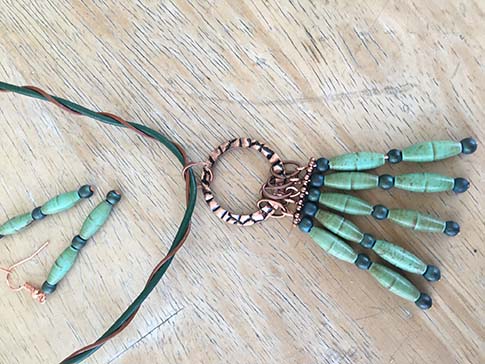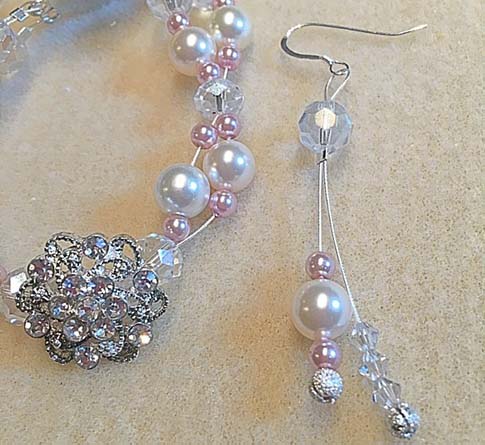 I ordered a custom set for my wedding, and it is just stunning. It captures light and sparkles perfectly, which will look beautiful at my evening winter wedding this month. Andrea was easy to communicate with and seeks and responds to feedback throughout the process. She works well using technology- email/text and sends pictures of progress. The items arrived quickly and she packages them with tender loving care.
If you can't quite find the right jewelry for your special occasion, I would recommend working with Andrea to help you find what you are seeking! 
"Andrea is absolutely amazing!  I can't say enough good things about her.  I had never done yoga prior to working with her, and I am so lucky I found her.  She takes the time to work with me and correct my form as needed.  She has never asked me to push my body farther than it can go and listens when I tell her something doesn't feel right.  One my favorite things about her is how calming and soothing her voice is, after a stressful week of work it's just what I need.  She's the Best!"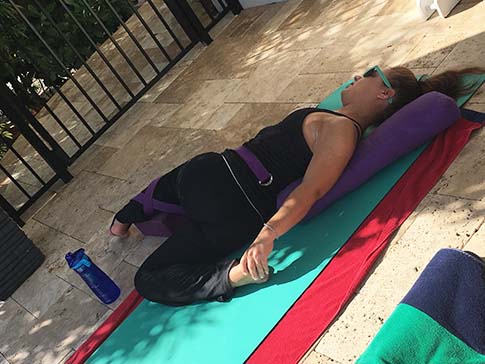 ARE YOU READY TO ADD YOUR NAME TO THIS LIST?
Call Andrea at 239-634-0739 or click on the button below to request your FREE consultation now! 
Andrea is a true gem!  I love the jewelry she has sold to me. I've given many of her jewelry pieces as gifts for friends and family too. She has many different styles for many tastes! Quality of work is evident in the wear of my pieces. My kids play and pull on me and I've not had any issues. 
I also can't express the value of Andrea's yoga classes I made an effort to see her sometimes twice a week and I felt so good after every class no matter what struggles in life I was dealing with. Her flow, voice and pacing of classes is combined with gentle guidance and excellent explanation for all to benefit from. Yoga for all levels and ages in a gorgeous natural setting for a great price per class as you go. 
I could go on and on but all I have are praises for Andrea. Try a yoga class, check out her Etsy shop and she's even an essential oils consultant if you want to learn about them.
Andrea custom made a beautiful bracelet as a birthday gift for my mother. I was a bit pressed for time, so she made it immediately and even delivered it! I am so pleased with this gift and am especially impressed by the wonderful customer service! 
This necklace is absolutely stunning. Well-made and beautifully designed. And what a joy to work with the artist. She takes every little question seriously and has a great sense of humor! Highly recommend her and her shop. 
Beautiful jewelry made with special love for each piece from the design all the way to the completion.  Andrea's eye for the design phase is beyond perfection.  I am very pleased with every piece of jewelry I have.
"Working with Andrea to design a custom jewelry set for my mother's birthday was a beautiful experience.  I sent Andrea a picture of my mother and we talked about who she is, what colors and style of clothing she likes to wear, and why she is so special to me.  The necklace and earrings that Andrea made after our conversation was an amazing reflection of my mother, who now wears them all the time.  The thoughtfulness and love that Andrea uses in her work is obvious, taking the time to consider and ask how long a piece should be or what type of clasp is best, paying attention to all the details that make the jewelry beautiful but also practical to wear.  Her unique and carefully crafted jewelry is everything that you won't find in a department store."  
I am so grateful to Andrea Trank and Heaven Lane Creations. I find so many stones that are spiritually significant, and I need the proper showcase. Andrea's creativity has come through every time!  
Thank you so much!! I appreciate your attention to my crazy details and including all the colors and beads that I wanted!!!!! My bracelet is so beautiful and I'm so happy!!! Thank you so much! 
"Andrea is not only compassionate and kind, but she is educated enough in her field to realize when a modification to a pose or specific anatomical attention must be paid. It has been such a relaxing and fun part of an otherwise strenuous work week. Having never practiced yoga before, I was worried I wouldn't pick up the exercise as quickly- Andrea gave detailed and focused attention to her students. Each week bringing different poses and routines so it never becomes monotonous or boring. I have never enjoyed "working out" this much. I would highly recommend Andrea to be your yoga instructor. She is cheerful, patient, and skilled- exactly what someone should want in a teacher! (not to mention always on time)!!!" 
"Andrea is so patient and helpful. She is concerned with technique to help the beginner and creates a comfortable atmosphere. I am always so relaxed and centered when I leave her class."  
"I had a private yoga session with Andrea and she was great. This was my first yoga class and I needed someone to show me the correct forms of yoga to help with my back injury. She was very patient with me and caring."  
"My experience with Andrea has been tremendous. She has tailored my yoga practice to fit my personal needs. I am feeling stronger mentally, emotionally and physically."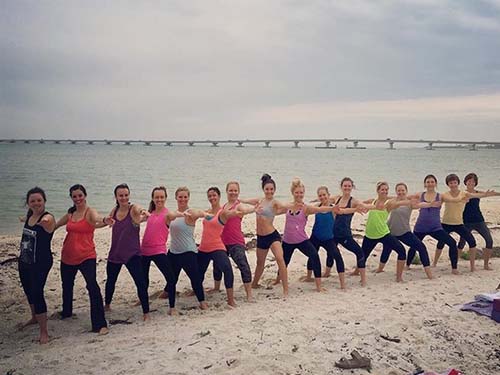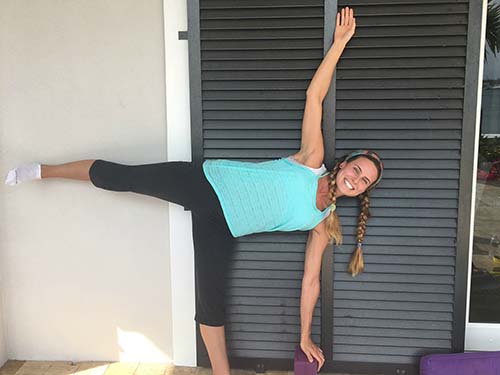 "It was wonderful to meet a yoga instructor who REALLY knows how to teach. She is detail oriented, which yoga is all about. She makes sure you are in the correct position before moving on, which many instructors simply don't take the time to do. I call her methods therapeutic since she's helped my body recover from several problems.  She's a real gem and I'm so happy to have found her!" 
"Andrea is knowledgeable and personable. She tailored a yoga session specifically for our family. We highly recommend her whatever your previous experience with yoga." 
"I attended Andrea's yoga classes when she lived in Ft. Myers, FL. She was always on time and when we walk into the room, she greeted us with her beautiful smile. There are many things that impress me about her; how she made everyone feel comfortable right at the start of the class, greeting new people, always explaining at the beginning to not feel embarrassed if you can't hold the pose as well as your neighbor not everyone is the same, yoga should not hurt. She interacted with everyone during class by walking around making adjustments if necessary, and showing options if someone is struggling. I could go on and on but these are just a few that stand out. At the end of the class, Andrea read a poem that always has a calming message for us to take with us. Andrea is such a gem and the We all just love her." 
ARE YOU READY TO ADD YOUR NAME TO THIS LIST?
Call Andrea at 239-634-0739 or click on the button below to request your FREE consultation now! 
Please feel free to contact me at 239-634-0739 or andrea@heavenlanecreations.com for a FREE 30-minute consultation, and discover how Heaven Lane can work with you on the path to health and happiness.