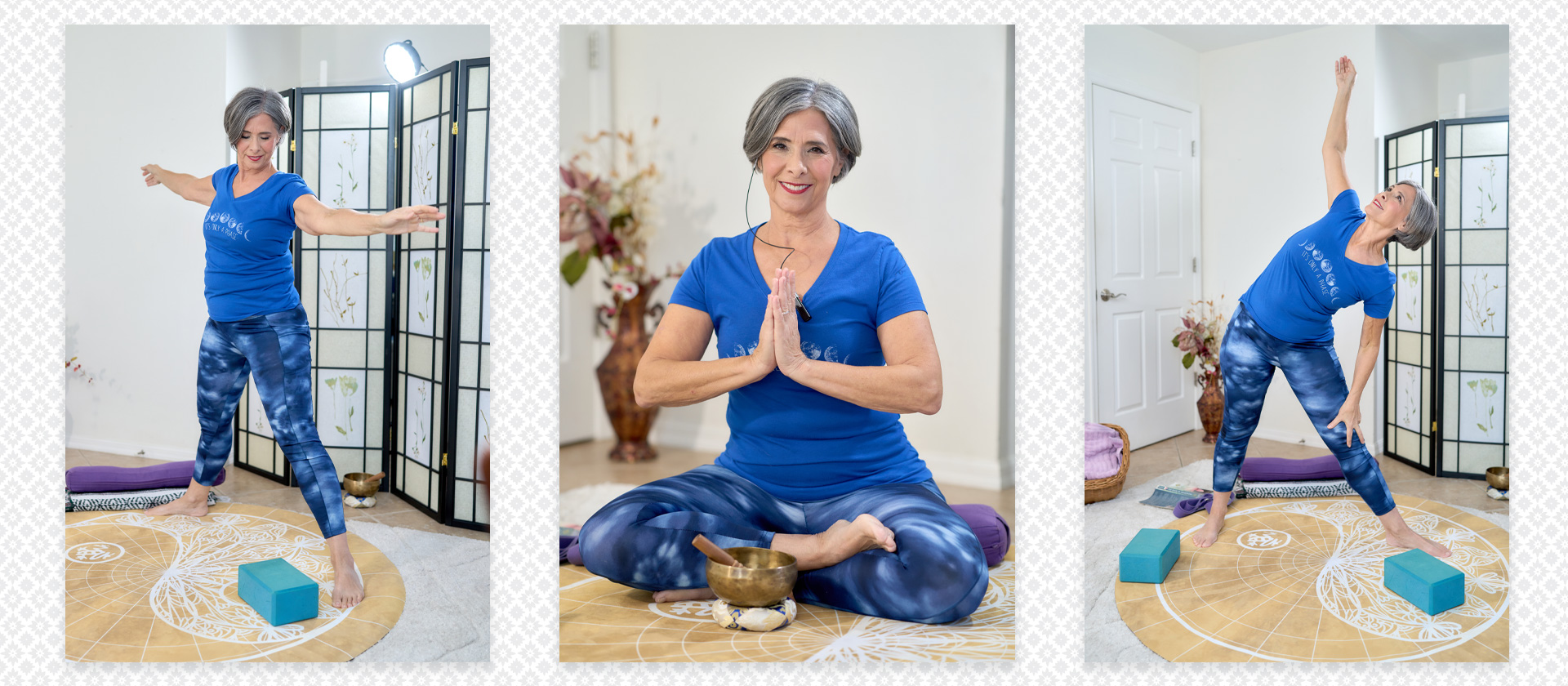 Private Online Yoga Classes
Private Instruction: Experienced Yoga Teacher, Certified Integrative Medicine Health Coach, and HeartMath PractitionerAndrea Trank is also available to do private or semi-private yoga instruction. Skills from 25 years of teaching classroom science translate well to working with students of all ages on the yoga mat. I give you clear, yet compassionate instructions. I have a keen eye for safety and know how to make you feel comfortable trying new skills.
I specialize in working with beginners, people with chronic health issues, people over 50 and people who are recovering from injuries or illnesses.  My passion for yoga and my own journey from illness to health are testament to the benefits of this practice as well as the nutritional changes I have made. Schedule a 15-minute free consult to see if I can help you on your journey toward health.
Private/Semi-Private/location classes 75 minutes $100.00 for up to 2 people.
Privates must be paid in advance. 
Discounts are offered for packages paid for in advance.
10 classes prepaid ($900.00) $100.00 savings.
Prices are based on 75-minute classes.  We will work on Zoom through the computer. I will provide you with helpful videos to use in between sessions. I am fully insured, licensed, have my own equipment and am CPR certified.  Health Coaching and essential oils coaching may be added if interested. Let's get started on your journey toward better health and happiness.
Online special programs on anxiety, brain health, toxins, essential oils, supplements, meditation, breathing, and jewelry design for healing.
Etsy Jewelry Store
Handmade one-of-a-kind Heartistic jewelry creations are available via our online Etsy store. Each piece is custom designed and created with love.
Marketing services including writing, social media, and branding consulting for your Healthy Living and Heart-based business.
Don't take our word for it, find out what other people are saying about their experience with Heaven Lane Healing & Creative Arts and Andrea.
I recently read that practicing yoga and meditation regularly reduced doctor's visits by 43% in one study. Seems like a good choice to me! Come get your dose of nature and wellness with Heaven Lane Healing & Creative Art's unique brand of yoga.

Ask about our FREE 30-minute consultation and discover how Heaven Lane can get your life on the path to health and happiness.