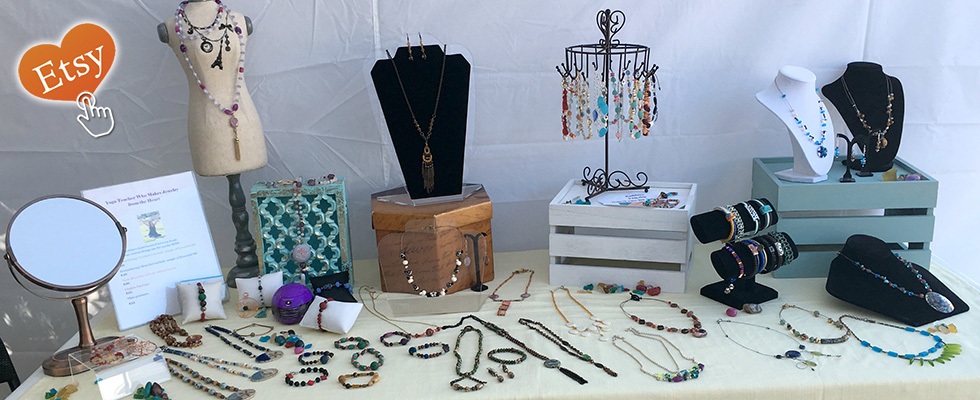 I love being adventuresome with my designs. Making jewelry has always been a form of healing for me.  Each piece is made with intention and attention to detail.   What I really enjoy is making individual pieces on request to match an outfit, for a special occasion, or to personalize jewelry based on one's own personality and style. If you want a custom piece, please reach out to me.
You can get a feel for what I make in my gallery here or in my Etsy store.   The Etsy Store has currently available items, however, if you want something similar to what you see, I could make it.   I will work with you in person or through email and text on colors, length, materials.  Costs will be kept at price marked unless you ask for sterling silver or gold.  Turn-around time is two to three days if you order directly from the store or one to two weeks if it is custom designed.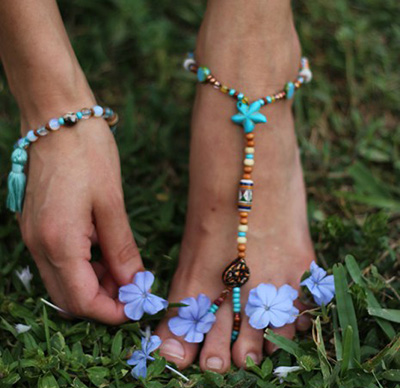 Anklets – From Barefoot weddings to strolls on the board walk, an ankle bracelet can add style.  My designs are affordable and fun. 
I love being adventuresome with my designs. What I really enjoy is making individual pieces on request to match an outfit, for a special occasion or to personalize jewelry based on one's own personality and style.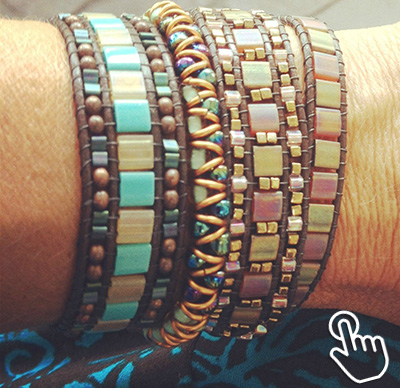 Bracelets – My bracelet designs range from Boho chic to Vintage glamour.  I love designing bracelets that can be stacked.  "Fun, colorful, durable and easy to put on" are my mottos.  I use a hand-made loom my husband designed to construct the wrap bracelets.  I also use the following techniques:  bead weaving, Kumihimo (Japanese braiding), crochet, knotting, stringing and memory wire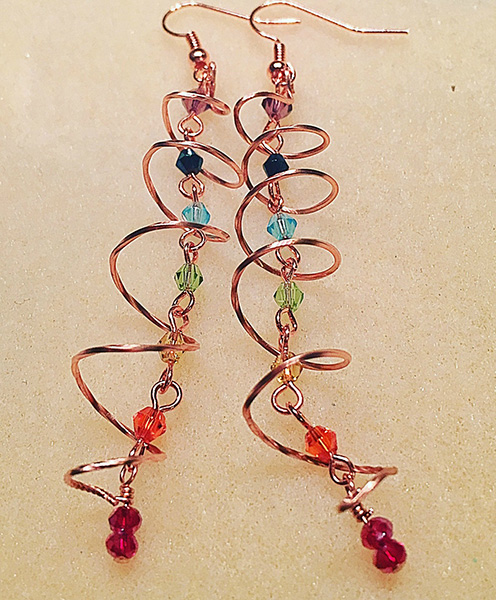 Earrings – A woman can never have enough earrings.  I know.  I often make a new pair of earrings each morning when I put on an outfit.  My earrings won't be found in the department stores.  Each pair is unique.  The earrings are light enough to be worn, yet striking enough to show.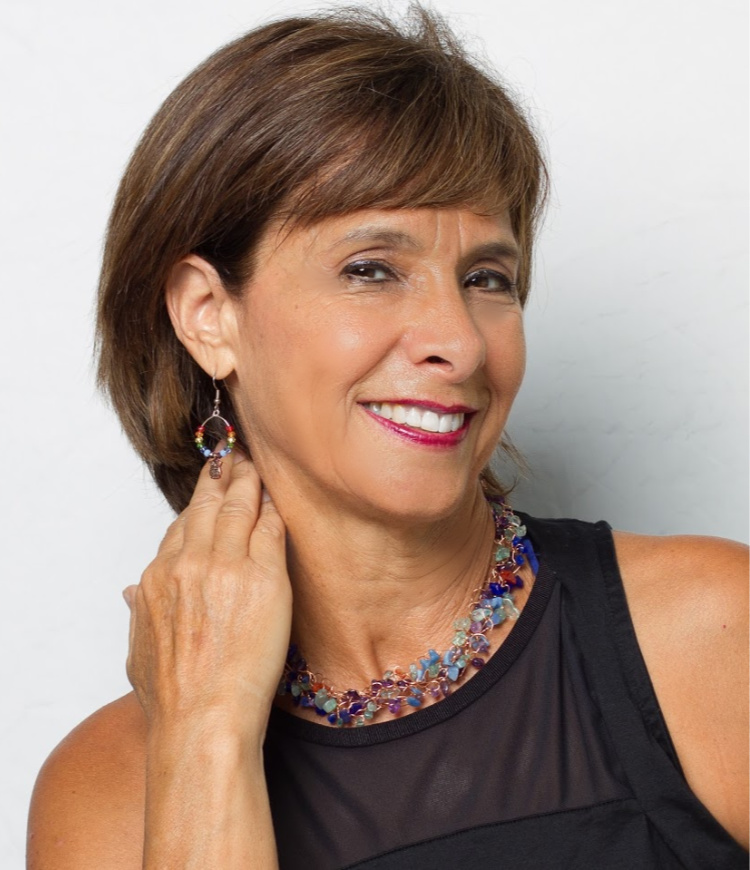 Necklaces – I specialize in designing necklaces to match my clients' outfits.  Mixing colors and stones in unusual ways. As one customer put it," Andrea's necklaces feel good on." Another "Every time I wear the necklace you made me, I get asked where I got it from." Each necklace is made with love and attention to detail.  Clasps are carefully chosen for comfort, durability, and beauty.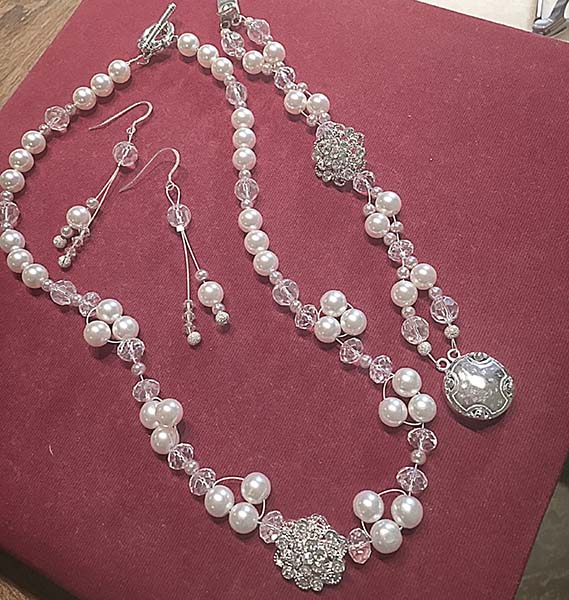 Custom Orders –  I love designing jewelry for a special occassion like a wedding or graduation.  I will meet with you and we will work together from beginning to end so that you have the perfect, unique, custom designed accessory for your event.  Prices will depend on time and materials.  You must order directly from me and not through my ETSY store.  Reach out through the contact form.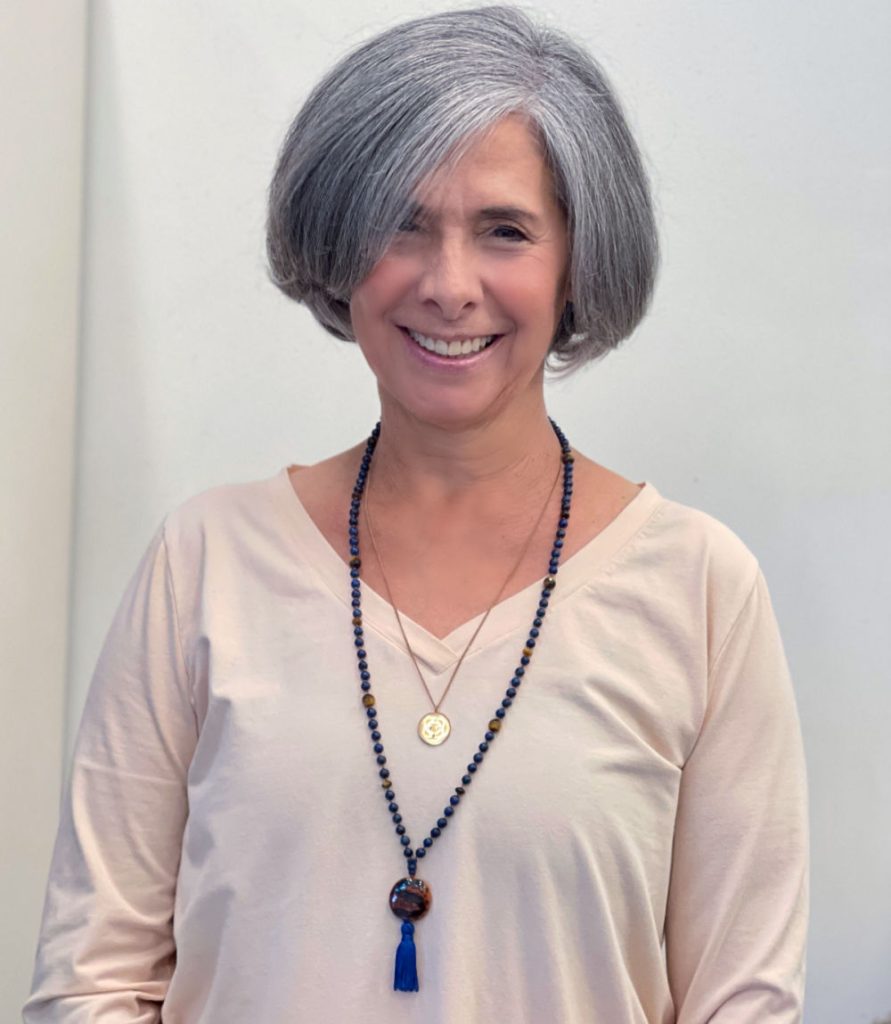 Yoga Jewelry – My Malas are unlike any others.  I design them with special, handpicked spiritually significant crystals and stones and knot between each of the 108 beads so that are strong enough for meditating. I also make mala bracelets. My chakra style earrings are a bit hit with yogis. I am constantly experimenting with innovative designs. The aromatherapy bracelets and necklaces are beautiful and functional. 
Jewelry Sets – Do you enjoy wearing matching necklaces and earrings or want a ring and bracelet set? I love making matching jewelry.  Often my customers buy a necklace and then ask me to make a matching bracelet, anklet or pair of earrings.  It makes the jewelry more personalized when you have a whole set.  Any one of my styles can be matched exactly or I can make you a pair of earrings that compliment but don't necessarily match as well. I can also match up some jewelry you own.  It may not match exactly, but it will look great together.

Custom Designs – If you want a special accessory for an outfit or an important event, I can work with you.  I love designing pieces that are completely original based on the picture you share with me or a description of something you are looking for.  I will work with you on all steps along the way – either in person or over the internet.  I love the challenge of designing something that is as unique and beautiful as you are.  Weddings, proms, corporate branding jewelry – I have done it all.  I can also re-design a treasure you own or figure out how to design around a piece.  
Photo Gallery
Below is a collection of all my Heaven Lane Jewelry categories. These are just some of my recent favorites. Stay tuned for new ones to be added soon! Click on any image to view larger version and scroll through slide show.

I am so grateful for all my wonderful clients who have so graciously allowed me to design beautiful jewelry for them and post their pictures wearing the jewelry. Your kind words and smiles once modeling your Heaven Lane Creations piece brings me so much joy. Big hugs and kudos to the young, beautiful jewelry models for giving of their time to showcase my jewelry, matched with their beauty! And to professional photographer Annie Woods who took many of the pictures early on in my business.
If you would like to be showcased on our website, blog and social media, contact me at andrea@heavenlanecreations.com and attach a photo of you wearing your favorite Heaven Lane jewelry piece or set! 
Click on any video below to view.
Please feel free to contact me at 239-634-0739 or andrea@heavenlanecreations.com. I can create custom, one of a kind jewelry pieces to fit your unique style and match your personal look or the perfect accessories for an upcoming special event.

Mala Making at Heaven Lane