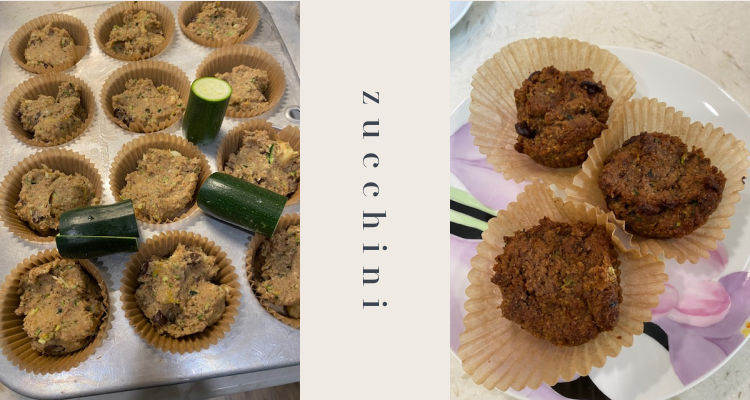 Recipe of the Month Blog
Experimenting with Zucchini Muffins
Grain-Free, Sugar-Free, Dairy-Free, But Oh So Yummy
Adapted from Best Ever Zucchini Muffins
2 cups Almond Flour
1/2 cup Tiger Nut Flour
1/2 cup Coconut Flour
1/2 tsp Real Salt (not Mortons)
1.5 tsp Baking Soda
1 tsp Baking powder (I use Aluminum free)
2 tsp. Cinnamon
1/2 tsp. Nutmeg (this is a key ingredient for flavor)
3/4 cup Monk Fruit Sweetener (this replaces sugar in all my baking)
2 TBLSP of Chia Seed Neat Egg (egg replacement) Follow instructions for how to make eggs
2/3 cup melted and cooled Ghee (if completely dairy-free, you can use coconut oil)
2 tsp. Pure Vanilla
Zest of 2 lemons (crucial for taste)
2-3 cups of shredded organic Zucchini ( I did not peel mine)
1 over-ripe Banana
Surprise Ingredient
Directions for Making the Zucchini Muffins
Whisk together all the dry ingredients (except monk fruit) and set it aside.
In a separate larger bowl mix together the egg replacement with monk fruit, banana, vanilla and lemon zest.
Add the melted ghee or coconut oil.  Mix well
Add shredded zucchini (I squeeze the water out of it with paper towels)
Pour dry ingredients into wet ingredients and mix by hand.
It will feel quite dry.
Surprise ingredient. I added monk fruit sweetened vegan chocolate chips.
Using an ice cream scoop, scoop the mix into paper-lined muffin tins
 Cook for 25 to 28 minutes
Cool thoroughly before eating otherwise they crumble.
Enjoy your healthy treat.  It made 24 muffins, so I froze some.
They did not rise as much as muffins made with eggs and they don't look really pretty, but they were so tasty.  We loved them.