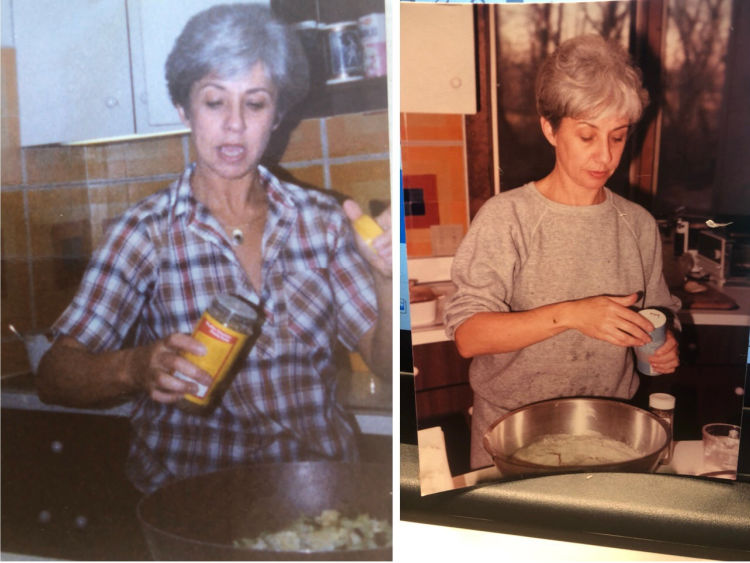 A Visitation from my Mom in a Dream Encourages me to Offer Online Cooking Classes!
30 years ago, my mom and I started writing a cookbook together. I was living a few doors down from her in NJ.  My eldest son was my only child at that point.  He was around 2 years old.  Mark was just out of law school employed by a Philadelphia law firm, working ridiculous hours.  Mom, who was a highly skilled cook, having run her own catering business and feeding a family of 10 children, decided my husband looked undernourished.  She was never one for mincing her words.
Several days each week, I would be in her kitchen learning the fundamentals of cooking.  For her time and level of education (she had gone to secretarial school after high school), she was quite knowledgeable about nutrition—favoring fresh vegetables over any other food.  Growing and using fresh herbs was something she believed in as well.  However, she was extremely cost-conscious so she refused to pay more for organic foods. She loved making loaves of bread and pasta even though they upset her stomach because my stepdad was Sicilian. Need I say more.
We never finished our cookbook, but her recipes and cooking hints were seared into my brain.  When I was diagnosed with Hashimoto's and began my healing journey, I realized that I would have to dramatically change my diet.  So many of Mom's recipes were put on a shelf. However, I did start to cook more and that made a huge difference in my health.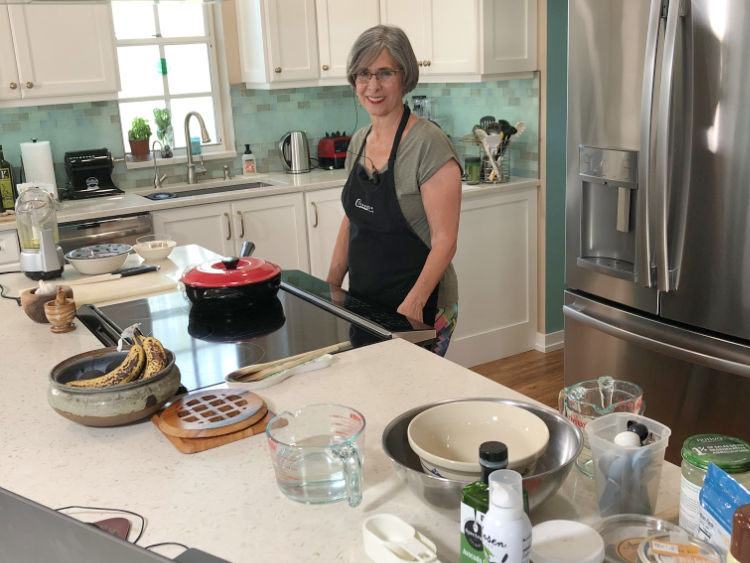 My First Virtual Cooking Class Was A Great Success
This past week, I was divinely guided to offer cooking sessions virtually.  The idea had been stewing for a while, but when a corporate client approached me to teach their staff healthier ways of cooking and eating, I somehow knew my mom was involved in this new offering (directing from Heaven I believe.)
I got to work—creating the menu, providing the group ingredient lists, typing up the menus, and setting up my kitchen with lights and ways to record the session live.  The picture of my mom is always on the side of the refrigerator, but I felt her presence very strongly that day.  I felt her guiding me all day and I could not keep the smile off my face.  The class went off without a hitch except when I tipped my cup of coconut oil to show them how melted it was in the Florida heat and it went all over my wood floor (good for restoring the wood I laughed).
We prepared five different dishes in two hours.  Here is a snippet of the class.
My Inbox Was Filled with Positive Testimonials the Next Day
"Had a blast at the healthy cooking class! She's passionate about what she does and was very informative!!"  Rachel R.
"I had the absolute pleasure of taking a group cooking class with Andrea. She gave us some great recipes with fresh ingredients. She was even able to provide healthy substitutes that help combat inflammation for those of us that had food sensitivity. She was an awesome teacher, gave clear instructions, and was such a joy to have. Recipes included Banana Bread w/ almond flour, an egg frittata w/ mixed veggies, homemade pesto sauce, and a chicken salad made with a pre-cooked rotisserie chicken. Enough for me and the wife for 2 days!"  Joseph
"Andrea's passion and knowledge for healthy cooking are obvious in her class. Her instructions were easy to follow and explanations clear. I enjoyed the class and would recommend this teacher to potential students."  Bill
Great cooking instructor! Very passionate about healthy cooking and really good with step-by-step directions. Answered all of my questions while also giving quick on-the-fly options if something didn't come together just right. All the food was easy to make and very very good. I would recommend her to any who is looking for healthy options that are super versatile." Angela T.
 "Andrea is wonderful! She made cooking easy and fun. I'm not great with using healthy ingredients, but Andrea made it a piece of cake (actually a piece of delicious banana bread!). The meals are so tasty and my confidence in eating better makes me excited to make the next meal. I highly recommend working with Andrea!"  Maria H.
"Andrea did a great job teaching our class. We learned how to make excellent, healthy versions of banana bread, pesto, chicken salad, and then some! Would highly recommend taking a class with her."  Michael S.
With my mother's blessing, I am going to offer this class and others again if there is enough interest.  Reach out to me for more details or to line up this 2-hour simple, healthy and delicious cooking class. Mom approved and "ready to go".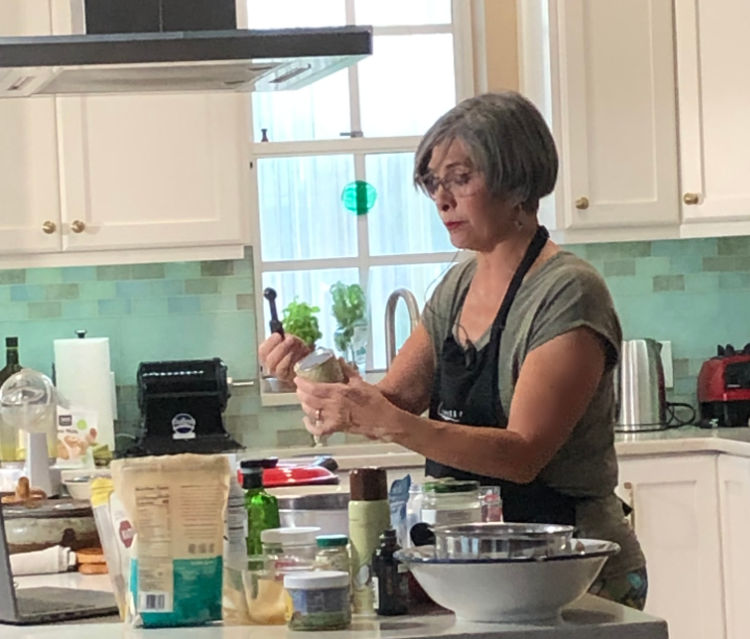 My mom is smiling down at me from Heaven.  Are you ready to have fun in the kitchen and get healthier at the same time?  If so, reach out to me!
Namaste,
Andrea