Beautiful Handmade Jewelry is Included in Heaven Lane Healing Offerings!
It has been nearly 5 months since Fort Myers was devastated by Hurricane Ian.  Many of my jewelry supplies were stored in containers in the garage and they were all destroyed.  In an effort to heal, I purged and gave away  jewelry making tools and beads that I kept upstairs to an art teacher in Sanibel who lost everything.  At that point, I was not sure that I still had the love of jewelry making and desire to design any more.  I thought it was time to close this chapter of my life. 
This was Not the End of the Jewelry Journey After All!
After I cleaned up my jewelry design room, it sat pristine for several months.  My creative energy went into cooking and working with people using HeartMath and Gentle Somatic yoga tools.  Then two weeks ago, a dear friend of mine asked me to teach her how to make a Mala meditation necklace.
Two days before she was scheduled to come over, I started opening up all of my beading containers.  I went searching for my tweezers and thread. Frankly, I had to get on to YouTube to do a refresher tutorial on how to make malas. The day before she was scheduled to arrive, I designed my first necklace in nearly a year.   What emerged surprised me– a beautiful necklace made with healing amethyst, citrine and carnelian.  Our lesson went great.  Since then I have not stopped making Malas. And I revisited why I started making jewelry in the first place.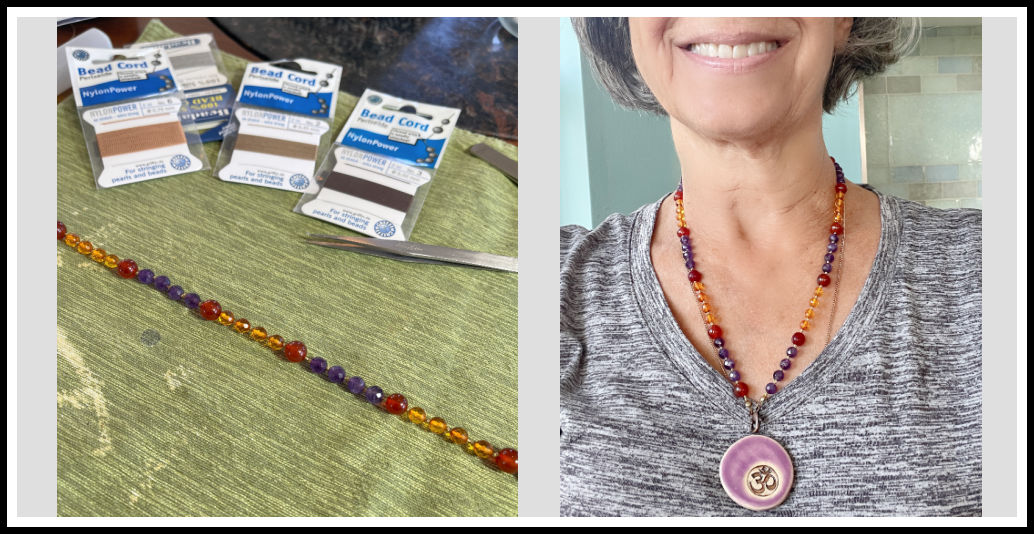 How the Jewelry Healing Journey Began!
In case you do not know this history, I started designing jewelry thirty years ago when I was very sick.  I had gone on medical leave from teaching high school due to anxiety and serious gut issues.  I needed to find a way to heal.  I took my first jewelry making class at a store in Charlottesville Virginia.  Designing jewelry became my go-to mindfulness practice.  And before I knew it my hobby had grown into a small business.
I designed thousands of pieces ranging from very complicated bead embroidery bracelets to crocheting necklaces to simple, but colorful earrings and anklets. (see more on my website)  Each piece was designed from my heart.  I have so many customers who still reach out to me and express their love and appreciation for my designs that they own.

Aligning Jewelry Design with Healing Services with a Big Clearance Sale!
I realized that my ETSY Store was sitting idle and my interest in designing needed to be even more aligned with the healing work I am doing with myself and my clients. In light of this decision, I am going to drastically reduce the prices of my existing jewelry and focus all of my design efforts in making malas, matching earrings, Chakra jewelry and essential oil diffusing bracelets.  Click here to see what I have in my store on clearance.  The sale ends in one month. 
Here is a Short Video on How to Use a Knotted Mala in Meditation!
Customers have raved about my jewelry for years!
If you want to see some of the jewelry reviews, click here.  There are two ways you can buy a Mala from me right now.  If you are local, come to Shangri-La in Bonita Springs Sunday March 5th between the hours of 10 am and 2 pm and purchase there.  Please bring cash or check because there is no WIFI.
If you want me to design a special Mala to meet your healing needs that is truly just for you, reach out to me.  My new Malas will be priced from $100-$200 depending on bead selection, pendant selection, and time it takes me to design.  These  Malas are one-of-a-kind healing jewelry that will be made with love, intention and attention to detail.