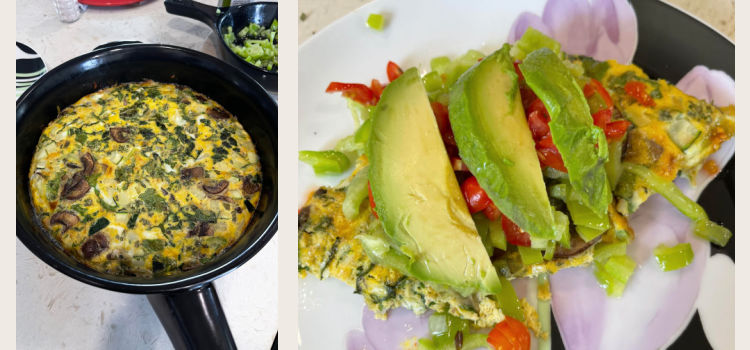 Ingredients
Fresh vegetables chopped up.
Fresh herbs finely chopped
6-8 free-range eggs (My favorite brand is Vital Farms)
Avocado Oil or Coconut Oil or Ghee
Almond or Coconut Milk
Directions for Easy Egg Vegetable Frittata
1.Cut any fresh vegetables you have in the refrigerator as well as finely chop some fresh herbs.
2.My favorite veggies to use are Bella mushrooms, zucchini, spring onions, fresh greens such as kale or spinach.  But if you do not have a nightshade sensitivity, then use peppers and tomatoes as well.
3.You must use a pan that can go on the stovetop and in the oven.  I use Xtrema Clay Pots and Pan.
4. Sautee the vegetables in avocado oil or ghee or coconut oil.
5.  Mix up 6-8 eggs with a bit of almond milk or coconut milk in a separate bowl.
6. After the vegetables are soft, pour in the egg mixture.  Add freshly chopped herbs. Push the vegetables around so that they are evenly distributed in the eggs.
7.  Carefully place it in a preheated 425 oven for 17 minutes. Make sure the handle is facing out to make it easier to remove from the very hot oven.
8.  Carefully remove from the oven and let it sit for a few minutes.
9.  Cut it like a pie and serve it up with some sliced avocados or any other garnish on top.
10.  You can reheat the leftovers in a toaster oven or oven the next day.