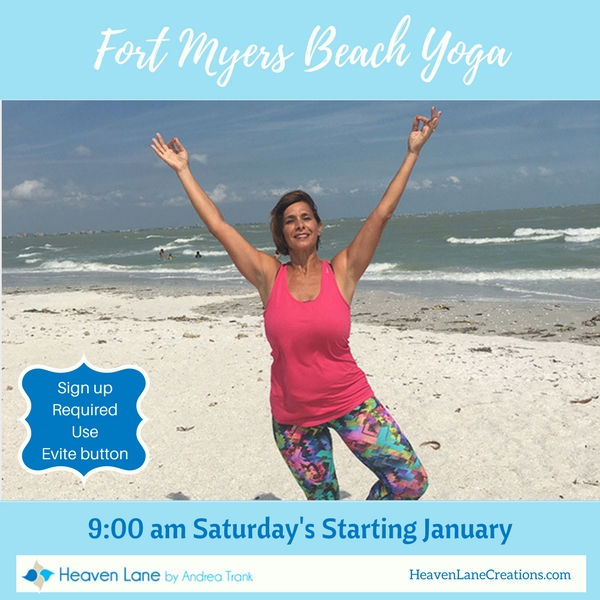 Heaven Lane is so excited to be offering Yoga for Wellness every Saturday on Fort Myers Beach, starting January 6, 2018.  During the last few years, Andrea has been offering this class to a small group of people.  Thanks to the kindness and generosity of several Fort Myers beach residents, this class is now open to the public. Read on for details, how to sign up and what to bring to the class.  Just $10.00 per class.
What is different about Heaven Lane's Yoga
 1) Andrea's top concern is the safety of her students. Her job is to teach you how to listen to your body.
2) Every class there are variations offered to fit each body.  
3) Pacing is kept slow.  If you want to flow you can, but if you want to hold the poses to get the maximum benefit of the pose, that is also encouraged. 
4) Hear what Andrea's students say about her Unique, Customized, Healing Yoga. 
Here are the Details
Each Saturday baring rain or some other emergency, the 1-hour class will be held on the beach starting at 9 am.

Parking is free.  Park at the lot on Avenue C and Estero Blvd (beachside of the street), which is 3/10s of a mile South of the Matanzas Bridge.  Your landmarks are the Lani Kai Hotel.

Arrive 15 minutes before class to set up and sign in.  First time fill in a medical release form

One

you enter the beach through the path, look to the left for the lime green house

We will be set up there.

Bring two towels (one long enough to lie on) and other props such as blocks, straps, etc. you might have.  Don't bring a yoga mat unless you own a beach yoga mat.  Too hard to remove the sand.

Bring water

Bring $10 cash
You can pay in advance through my Paypal button.  But you can only buy the 10-class card this way. (Bonus 11th class is free).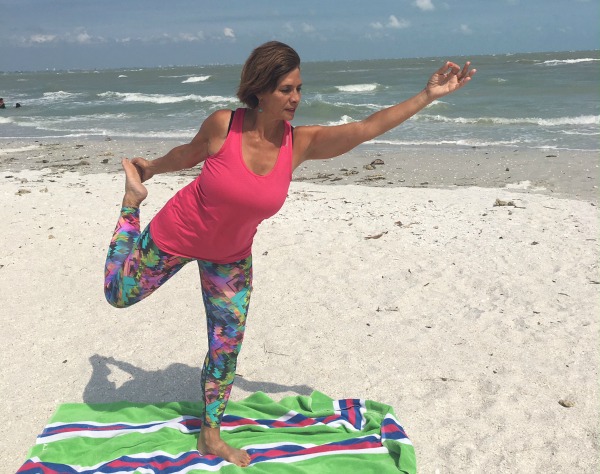 Please feel free to contact me at 239-634-0739 or andrea@heavenlanecreations.com for a FREE 30-minute consultation, and discover how Heaven Lane can work with you on the path to health and happiness.