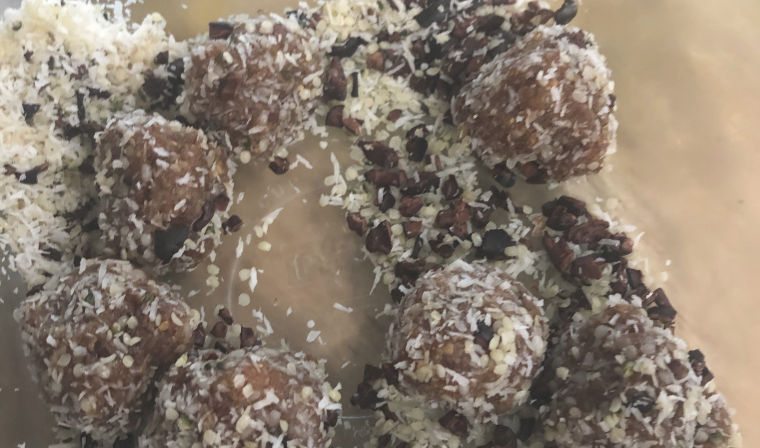 Directions for Energy Balls
1. Put the dates in the processor and grind it up.  
2. Remove dates and place them in a bowl.
3. Grind up the macadamia nuts in the processor.
4. Add back in the dates, two TBSP. of almond or peanut butter (unsweetened), one teaspoon of pure vanilla extract, and grind this all up. 
5.  You might need to use a small spatula to move the mixture around to get it all to mix.
6. Form into 1 inch balls
7.  Place the unsweetened shredded coconut flakes, hemp seeds, and cacao in a flat bottom bowl.  Mix thoroughly.
8.  Dip the balls in the mixture.
9. Refrigerate before eating.
10.  They should be eaten within a week.
Directions for Clam Chowder in the Instant Pot
1.Drain the juice from the can of clams and use them to saute the minced shallots in the instant pot on saute.  Add garlic after a few minutes.
2. Add celery or bok choy, carrots and sweet potatoes to the instant pot along with 1.5 cups of the homemade chicken bone broth or vegetable  broth.  Pressure cook on High for 2 minutes. 
3.While the vegetables are cooking, combine your melted coconut oil and arrowroot starch in a large saucepan over medium heat.  whick the mixture until smooth.  Add in the coconut milk and remaining chicken broth and stir constantly until thick and smooth.
4. Let the pressure release naturally for 10 minutes.  Hit Cancel to turn off the heat. Release the pressure and open the lid.
5. Add the tender vegetables to the saucepan with the arrowroot mixtures to the Instant Pot.
5.  Add the clams and squeeze lemon right before serving.
6. Add the cut chives to the bowl and season as you want. Yummy!