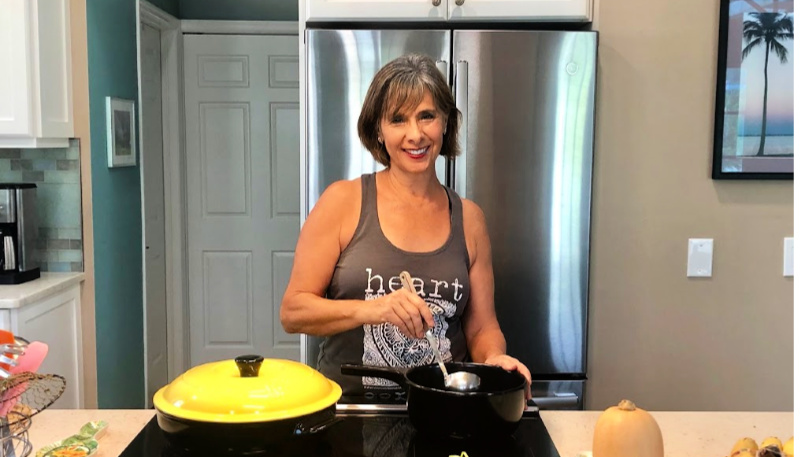 Homemade Cooking Can Heal
If you are trying to recover from surgery or illness or have decided it is time to eat food that you can control the ingredients, then you are in the right place. My mother spent years teaching me how to cook.  Granted I do not cook the same way she did because I have devoted the last ten years to learning about a healthier way to live.  While Mom did the best she could with the knowledge she had, I believe she would be pleased that I am using the kitchen to heal my gut and my life.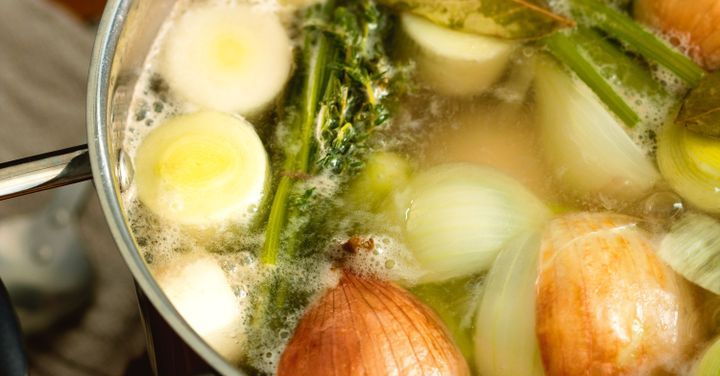 Chicken Bone Broth Recipe
The following recipe is not entirely my own.  I have read so many great recipe books from mentors in the field of health including Elana from Elana's Pantry, Magdalena from Cooking for Hormone Balance, Izabella Wentz, the Thyroid Pharmacist, to name a few. I have had to substitute many ingredients, but this just shows how versatile and easy these recipes are.
Basic Chicken Bone Broth Ingredients and Directions
The carcass of many pre-cooked chickens ( I save all the bones from our roasted organic chickens in the freezer)
Two TBLSP of organic apple cider vinegar (don't use too much.  I made that mistake once.  Yuck)
One onion or shallots or leeks (right now I am not eating onions)  If subbing shallots or leeks, add more.  They are milder
Lots of washed organic celery include the leaves (they will turn brown, but give great flavor)
Lots of organic carrots coarsely chopped.  (Don't worry about making them small, they are for flavor)
Medicinal herbs or regular herbs.  I have used Astragalus when I can get it.  But otherwise any herbs from your garden.
Garlic, ginger, turmeric (just wash, but don't peel.  You can smash the ginger in its skin.)
Pure water
Directions (start the same for either Instant Pot, slow cooker, or stove) But cooking times will be different.
Place frozen carcasses in a pot and pour two TBLSP of apple cider vinegar on it.  Let sit for 15 to 20 minutes with the top on
Add all cut and washed veggies and herbs
Pour enough fresh water to cover everything.  If using Instant Pot, follow their instructions for the right amount of water
Cook on low in the Instant Pot for 3 hours (if using their automatic soup setting, repeat it three times)
Cook on low heat for 20 to 24 hours in slow cooker, adding water as needed.
Cook on stove all day, but don't leave on during the night.
I divide into many containers.  In the refrigerator I use glass and in the freezer, I use plastic. It will last for a week refigerated.  Up to 1 month in the freezer.
Chicken bone broth is not as gelatinous as beef, but I like the flavor better.  I use the broth as a base for everything (including Carrot/ginger/coconut milk soup.. recipe below )and for reheating food instead of using oil.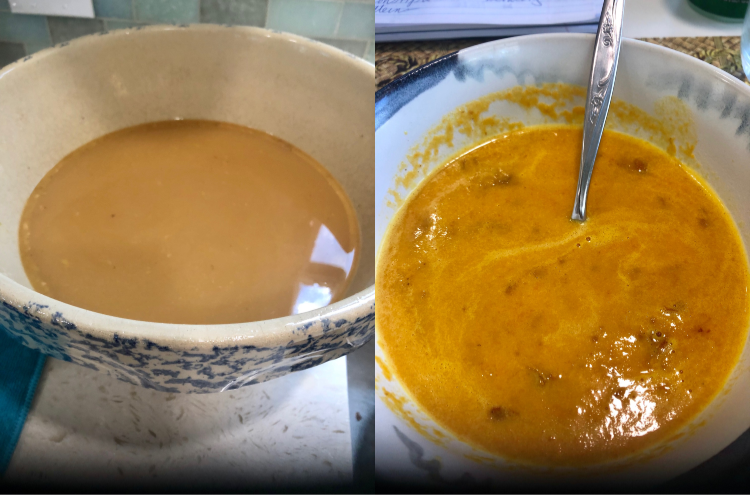 Coconut Carrot Ginger Soup using Bone Broth 
Again this recipe is a compilation of the many recipes I have tried. 
Coconut Carrot Ginger Soup Ingredients and Directions
Pre-made bone broth (approximately 1 quart)
Two TBSP of coconut oil (not fractionated)
3-4 cloves of minced garlic
3/4 inch of peeled and grated ginger. 
1/2 inch grated turmeric
Bag of organic mini carrots (even though they are pre-washed, I wash again)
1 can of full fat coconut milk (this is a Paleo friendly recipe)
High speed blender
Directions
Heat up coconut oil and brown the ginger, garlic and turmeric.  You can use a large deep pan or a pot. 
Add broth and the bag of carrots.
Bring to a boil and then lower temperature and simmer with top on for 25 minutes
Add can of coconut milk and spice to taste.  You can use curry, cumin or just salt and pepper. 
Blend in small batched.  
Can refigerate for up to 5 days.  Freeze up to a month
When reheating, adding some arugula or other greens for a slightly different flavor.  Yummy any time of year.  Let me know how it comes out and what substitutions you make.  Namaste, Andrea 
Teaching you to cook is part of my health coaching.  Check it out.