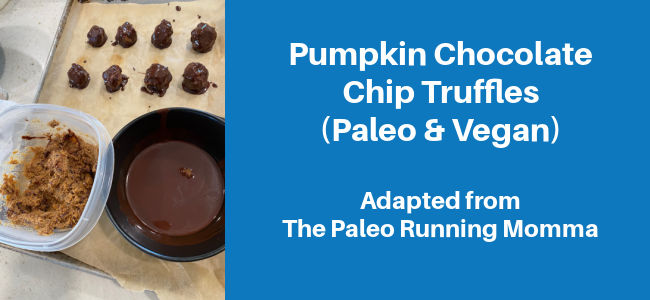 Recipe of the Month Blog
Sugar-Free Chocolate Chip Pumpkin Truffles
Messy but Yummy!
Adapted from Paleo Running Momma
1 cup organic dates pitted and softened in warm water
8 ounces Organic Pumpkin Puree
1/3 cup organic nut butter (Cashew or Almond)
1 tsp pure vanilla
1 tsp cinnamon
1/4 cup coconut flour
Cacao Nibs or sugar free Lakanto Monkfruit Sweetened Chocolate Chips
For the Chocolate Shell
8 ounces of Lakanto Monkfruit sweetened chocolate chips
1 tsp organic coconut oil
Directions for Making the Truffles
Soften your dates in warm water.  Drain the water and add them to a food processor.
Process them until they are paste-like.
Add vanilla, cinnamon, and coconut flour, and canned pumpkin puree.
Pulse the mixture until it forms a sticky dough.  (This is where it starts to get messy)
Add in the Cacao nibs or Chocolate Chips and mix well by hand.
Chill the dough either in the refrigerator for at least an hour or the freezer for about 15 to 20 minutes
Make the chocolate shell while cooling the dough.
 Heat 8 ounces of chocolate chips with one tsp of organic coconut oil on very low heat, stirring to keep it from burning.
Take your dough out of the refrigerator or freezer and form  1 to 1.5 inch balls. by hand.
You can try dipping the balls into the chocolate mixture and spread them out of a parchment paper-lined cookie sheet, (Super messy) or place the balls on the parchment paper on the flat pan and spoon over the chocolate
Put them back in the refrigerator until they have cooled and then transfer them into a sealed container in the refrigerator or Freezer. I discovered that I liked them better frozen than refigerator. 
They can last a week in the refrigerator and longer in the freezer.   Enjoy.
* Warning: They are very rich, so one or two is enough for a treat!