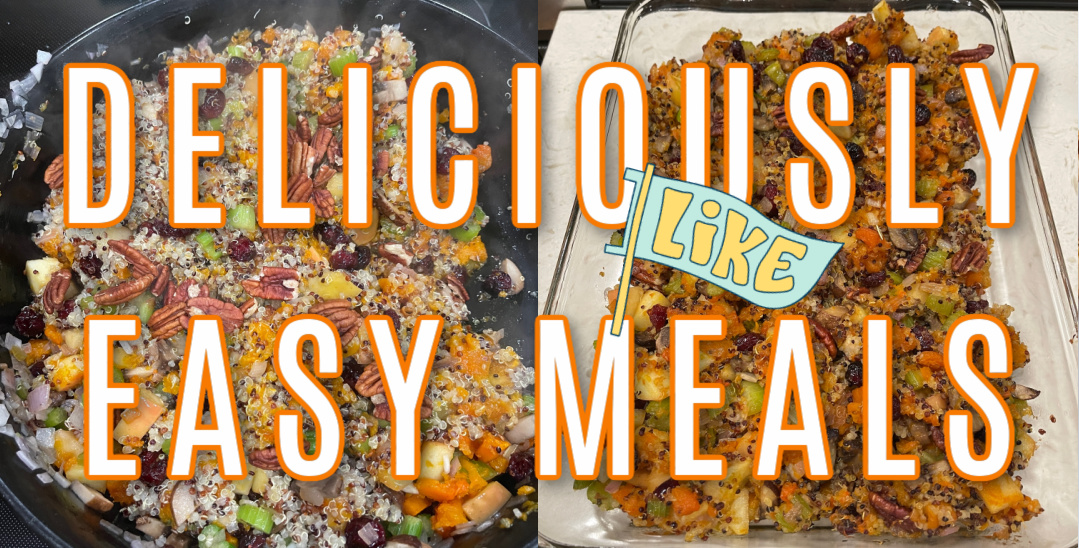 Recipe of the Month Blog
Turning A Yummy Holiday Side Dish into a Healthy, Meatless Meal!
Adapted from Michele Rosen Thanksgiving Butternut Squash Stuffing
1 large organic butternut squash peeled and cut into small cubes
1 and 1/2 tbsp of ghee, coconut oil or avocado oil for roasting the squash
1/4 tsp Sea Salt or Real Salt (a great brand I buy)
Cooking oil for the stove ( I use organic avocado oil)
1 small onion or several small shallots chopped
7 or 8 bella or crimini mushrooms or your favorite organic mushrooms
3 organic celery stalks chopped
1 large or 2 small organic apples cored and chopped
1/4-1/2 tsp real salt (not Mortons)
Your favorite seasoning ( I used Thyme, Sage, Rosemary)
3/4 cup dried cranberries (there is a brand that is sweetened with apple juice)
1 cup cooked organic tri-color quinoa
1/2 cup pecans
Directions for Making this meal
Follow instructions to cook your quinoa.
Pre-heat the oven to 425° and make sure your rack is in the middle.
Chop small (1/2 inch cubes at the largest) your organic butternut squash.  You can buy pre-cut and save the time of peeling the skin.  This is the most time consuming part of the recipe.
Place in a bowl and add some coconut oil, ghee and or avocado oil to coat the squash and add the pinch of salt. You can add garlice powder as well.
Roast in your pre-heated oven for 35 to 40 minutes until the squash are browned a bit.
While the squash is roasting, cut your onion or shallot, celery, mushrooms and apples.
Heat a large skillet.  I use my environmentally-safe ceramic skillet
Get the skillet relatively hot before adding the oil.
Cook the shallots or onions and celery in the hot skillet for a few minutes before adding the next ingredient
Add the mushrooms and stir to make sure the oil is mixed.  Add a bit more if needed.  Cook until the vegetables are starting to soften
Add the apples and mix and heat for a few more minutes.
Add your cooked squash and dry cranberries and stir thoroughly.
At the last minute, add the quinoa, pecans and herbs and mix again.
Salt to taste.
We ate this as a full dinner for two days.  It was light, filling and the quinnoa provided us with plenty of meatless protein.  Let me know if you make it and please share with me some yummy vegetarian recipes that do not have beans, gluten or dairy in it.
To Your Health,
Andrea