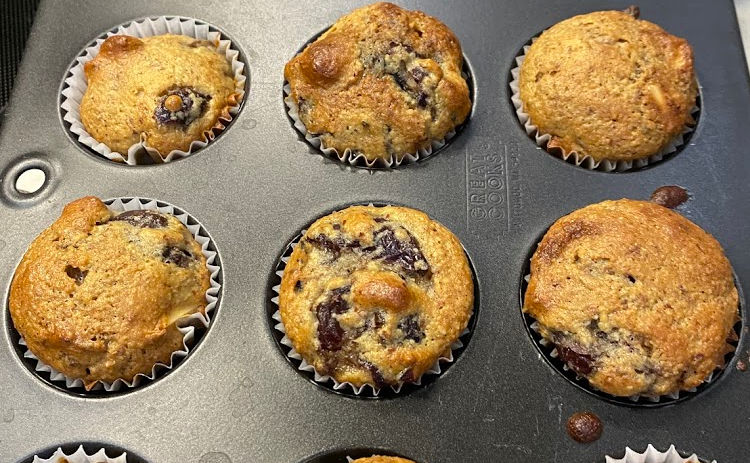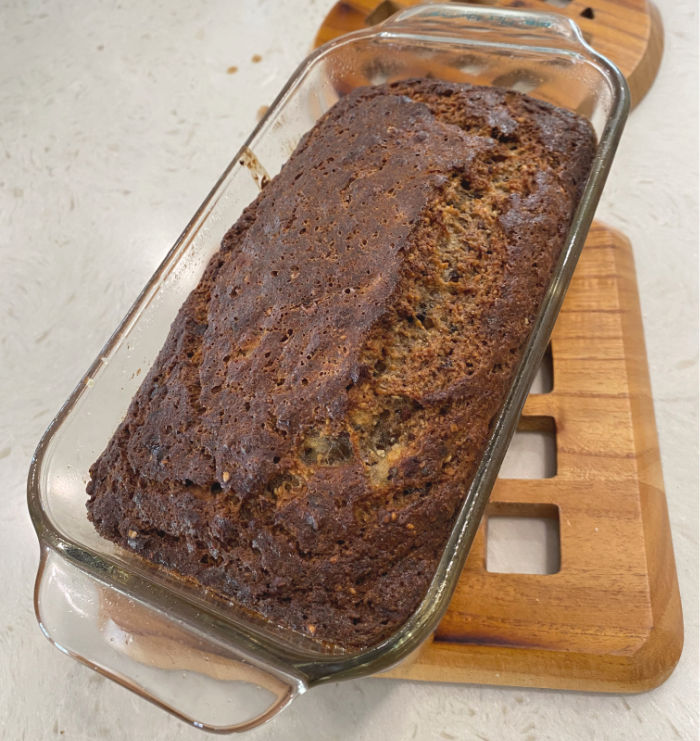 Recipe of the Month Blog
Two different kinds of bread that can be enjoyed by
those of us who don't eat grains
Ingredients for Paleo Banana Bread
(No Sugar) adapted from Paleo Running Mom Website
3 to 4 overripe bananas (frozen or fresh) If you use frozen drain them over the sink to get rid of water
4 eggs room temperature (you can leave your eggs out for hours.  They are safe to eat and easier to crack)
1/4 cup coconut oil melted and cooled to room temperature (In Florida during the summer that is easy)
1 3/4 cups almond flour.
1/2 Cup Tapioca Flour (a staple for grain-free)
1 tsp baking soda
1/2 tsp baking powder (look for aluminum-free, gluten-free brand or you can make your own)
1 tsp cinnamon
1/4 tsp fine grain salt
Ingredients for the Cherry Nut Muffins
adapted from Allison Post of The Gut Wellness Course
2 cups finely ground almond flour
1/4 tsp salt
3 eggs at room temperature
2 TBLSP of Coconut Oil 
1/2 tsp baking soda
1/4 tsp baking powder
2 TBLSP  honey or if you are vegan maple syrup or if you do no sugar, use Monkfruit (its stronger so lessen the amount)
1 1/2 tsp Pure Vanilla
1/2 TBLSP.  Lemon Juice
1/2 TBLSP.  Pure water
3 TBLSP chopped toasted almond slices (I slice and chop my own.  But this is messy and time-consuming.  But I cannot find organic almonds that are sliced. )
2 tsp. lemon zest (I use a zester)
1 cup pitted organic cherries cut in half
Directions for Making the Banana Bread
Preheat your oven to 350 °
Mix together all your dry ingredients and set aside
 Mix the wet ingredients separately in a larger bowl
Add the dry ingredients to the wet ingredients and mix until it is combined but do not overmix or get ride of the lumps
If using a metal loaf pan, line with parchment paper.  If using a glass, grease it with a bit of coconut oil or ghee.
Pour batter into the loaf pan
 Bake for about an hour.  Start checking it the last five minutes by poking a toothpick in the batter to see if the toothpick comes out dry.
Allow cooling by turning it over a wire rack
Enjoy.  It won't last long.  Ours lasted just two days.
Directions for Making the Cherry Lemon Nut Muffins
 Preheat your oven to 350 °
Toast the almonds carefully in the toaster oven.  They will burn quickly.
Chop the nuts after they cool.
Mix the flour, salt, baking soda, and baking powder in a medium-size bowl.
Mix the eggs, coconut oils, lemon juice, water, honey, or another sweetener, vanilla extract in a larger bowl.
Place the dry ingredients in the wet ingredients.
Add the lemon zest, toasted almond slices, and pitted halved cherries into the mix.
Using a spoon add them to the muffin tins.  I always use paper muffin holders because my pans are metal and I do not want the metal touching my food.
They cook quickly.  I used the mini muffin size and it cooked in 15 minutes.  If you use the larger muffin size, 20 to 23 minutes of cooking should do it.
We served ours warm out of the oven.
Yummy.
This recipe only made 24 mini muffins, so if you have a big crowd, you might want to double the recipe.
Enjoy these treats.  Eating healthy does not mean deprivation, it means substitution.!