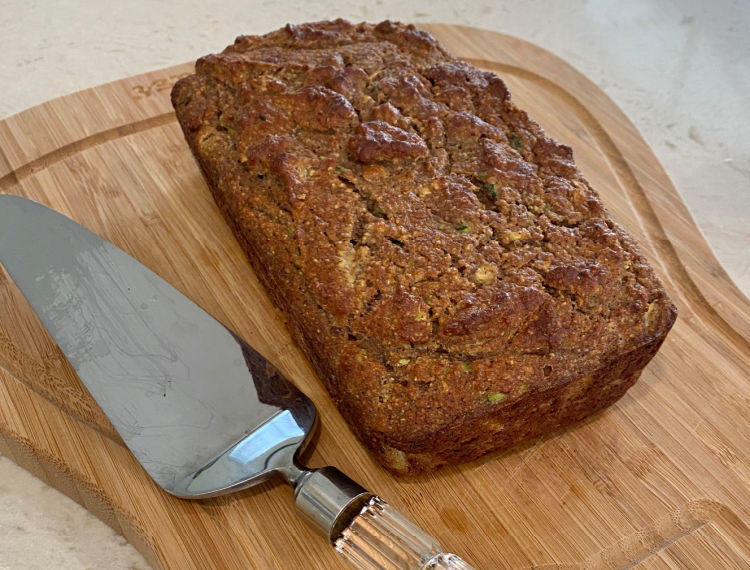 Recipe of the Month Blog
Zucchini is abundant now! It is delicious in this bread!
Super Yummy
Ingredients for Zucchini Bread
(This bread is Paleo, grain-free, and dairy-free)
adapted from https://downshiftology.com
These are my choices of flours.  Obviously, if you have a favorite substitute.
Dry Ingredients 
1 1/2 cups Bob's Red Mill Superfine Almond Flour
1/2 Cup  Organic Arrowhead Mills Tapioca Flour
1/4 cup Nutiva Coconut Flour
1 tsp baking soda
1 tsp cinnamon
1/2 tsp  Real Salt or Sea Salt
Wet Ingredients
3 organic free-range eggs (I love Vital Farms. You can see the difference in the yolks.)
1/2 cup organic unsweetened applesauce
2 tbsp organic maple syrup or organic raw honey
1 tbsp  Bragg's Organic Apple Cider Vinegar
1 1/2 cups grated organic zucchini
Directions for Making the Bread
Preheat your oven to 350 °
Mix all of your dry ingredients in a smaller bowl
 In a larger bowl whisk together the eggs, applesauce, honey or maple syrup and apple cider vinegar
When well combined, add the grated zucchini
Slowly add in the dry ingredients mixing as you go along
Put parchment paper at the bottom of a loaf pan about 8.5 by 4.5 inches
Pour in batter
 Bake for 55 minutes to an hour depending on your oven
Check to see if the bread is ready by sticking a toothpick in it and see if it comes our relatively dry.
You can add jam or ghee or butter or olive oil or just eat as it.
My son had never had zucchini bread before.  He was amazed at how good it tasted.