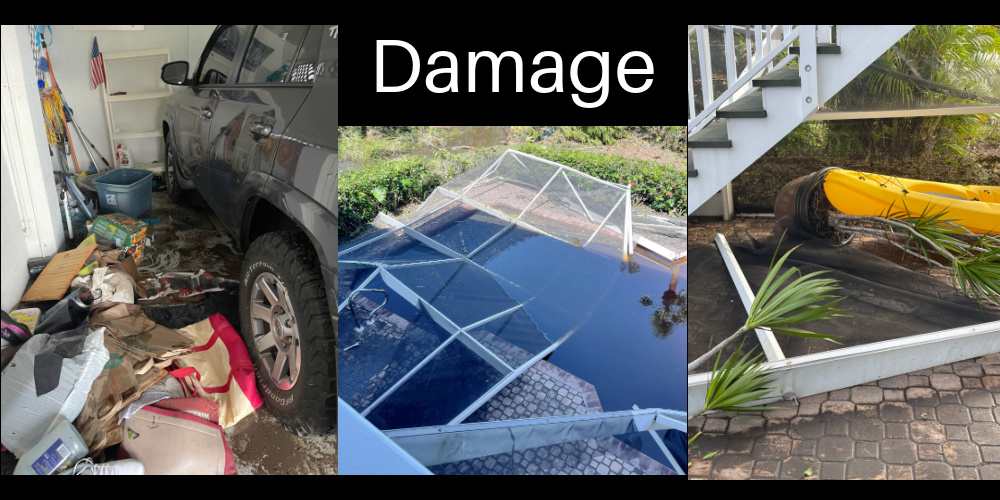 How Telling My Story of Hurricane Ian Helps Us All Heal!
By now, most have seen the total devastation that swept through our beautiful community.  In many ways, I am glad I did not see the footage of  the catastrophic effects of Hurricane Ian before I had a chance to regroup at a dear friend's house out of harms way.  Instead, I have been documenting and sharing my thoughts, feelings, and photos before, during and after Ian because in part, I needed to process trauma to begin healing.
Unprocessed traumas turn into sickness.  I know this firsthand. But what has occurred to me is writing about it and sharing concern connects us and facilitates group healing.   With this in mind, my hope is that this first-person chronicle of the hurricane may help bring you some peace and comfort.  And serve as a reminder that we humans have an amazing capacity for strength, caring, connection and resilience.
The weekend before Hurricane Ian was forecasted to hit somewhere in Florida, I wrote a blog called Hurricane Ian and Our Nervous System.  You can read it here. At that point, Mark, our son Daniel and his fiancée, Keri, and I were focusing on preparations.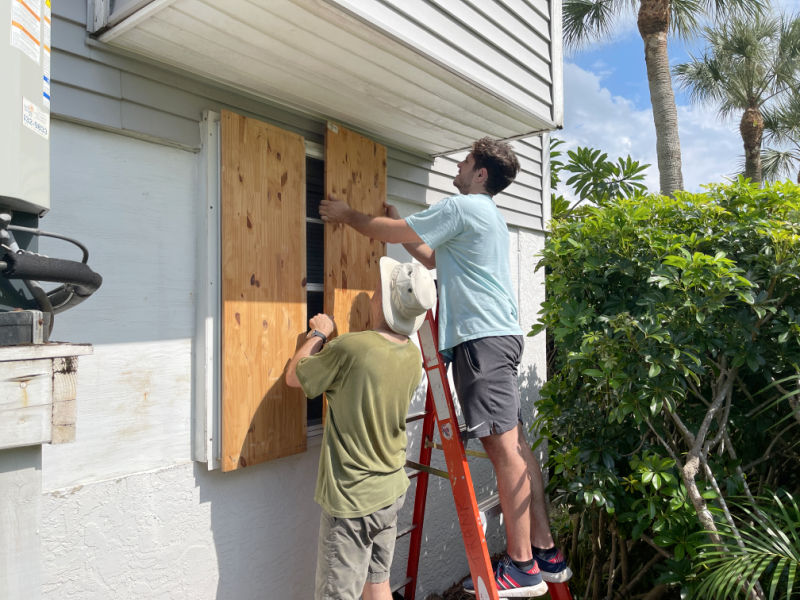 A Chronicle of Events Before, During and After Hurricane Ian
Sept 27, 2022 The night before it hit: "We are hunkered down. Our house has 56 hurricane shutters that we activated or put up. I cooked lots of healthy foods, learned that batteries deteriorate in a lantern and flashlights when left sitting for 5 years. Mowgli is taking Rescue Remedy for dogs. Sophie is hiding in the back room. But we slept really well last night and now we just breathe and pray and activate all the tools for nervous system regulation. Collective prayers for our area are appreciated."  (Image1 below)
Sept. 28th, 2022 10 am.  "This is how our dogs are weathering the storm. My husband has this effect on babies and dogs.  We were still calm and we still have electricity." (Image 2 below)
Sept. 28, 2022 Noon.  Winds were picking up.  The rain was torrential.  Forecasters were still having trouble determining landfall, but  it kept tracking further and further south bringing it closer and closer to our home and Southwest Florida.
Sept. 28,2022  3 pm  We have moved into the pantry.  Our electricity just went off. (Image 3 below) We had a transistor radio that was working and we were still getting information over our cell phones.  "Ok it's real. We have been hit directly by Ian, a Category 4 Hurricane. We are in the only interior room on the lower level which is a pantry. House is shaking. We have heard several crashing noises. But the forecast was so uncertain that we could not evacaute.  Next time, we go to Virginia. See the next video from three hours later, where we learned that wind was no longer the big issue, it was now storm surge.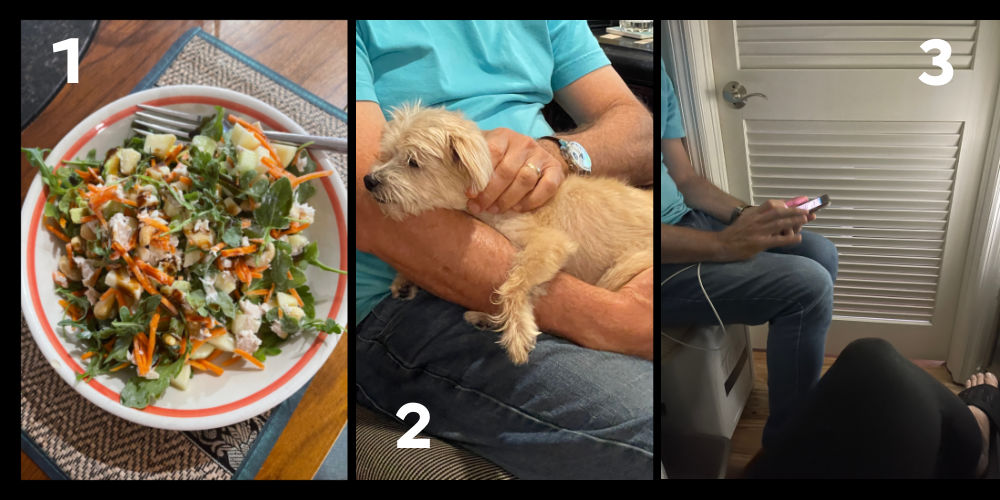 The Narrative Picks Up By Clicking the Image Below!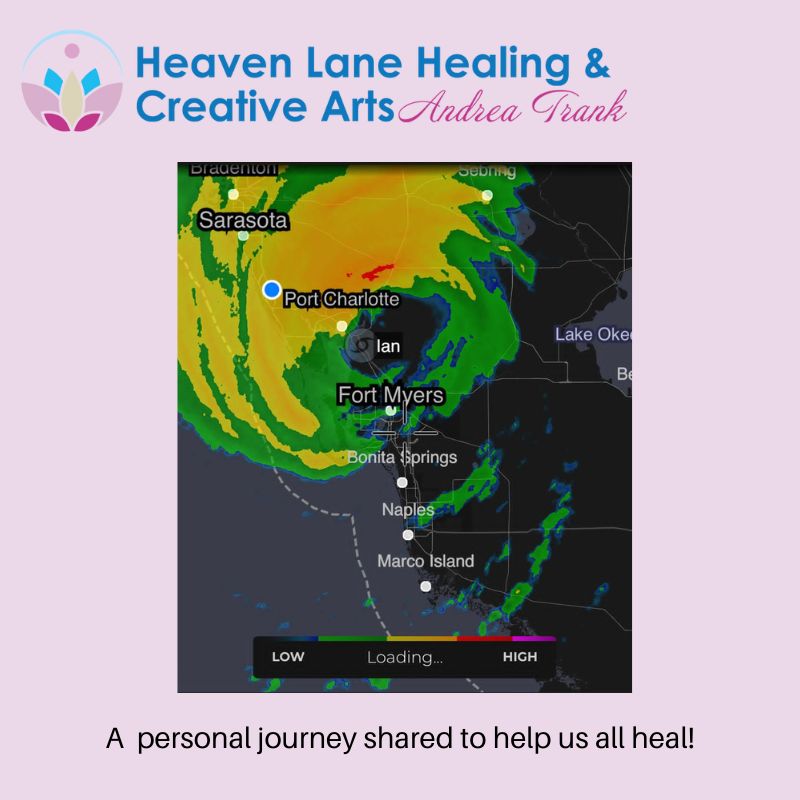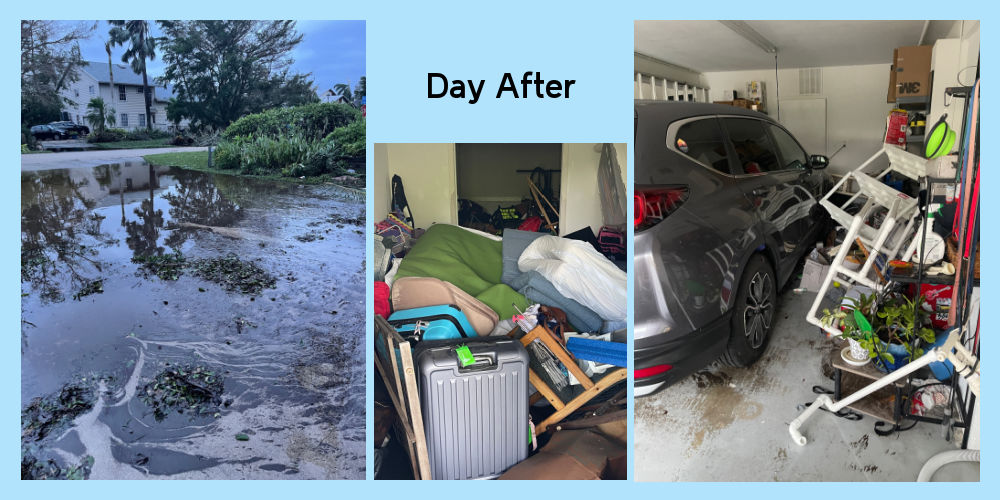 What Next?
September 29, 2022 3 pm:  Time to Count Our Blessings. "We survived one of the most devastating hurricanes to ever hit the US. I am feeling exhausted and grateful for: my children who checked on us every few minutes, neighbors who banded together to help each other, all of our friends around the world that sent prayers and heart, our house which was elevated enough to have a 10 foot high lake with waves surround it and stay standing, my inner strength, my faith, my amazing husband and pups, my strength and resilience and all my tools to continuously re-regulate my nervous system throughout the event. We were lucky and we have a long road ahead of us to get back to normal. #grateful #hurricaneian #resilience #superstorm
Sept 30, 2022  11:30 pm –I shared one more Hurricane Post on Social media about the aftermath of Hurricane Ian. We tried the day after the Hurricane to return to Fort Myers. "The aftermath of a catastrophic hurricane has so many pitfalls. Today we drove from Sarasota to Fort Myers to deal with a water main break on our property and to gather insurance papers that we accidentally left in our post-Ian fog. Unbeknownst to us, a dam broke on the Myakka River flooding more roads in between our home and our safe destination in Sarasota. We have been on the road now for more than 7 hours trying to go 60 miles. We are now headed up toward Orlando to cut back west and then south to our pups and friends. Daniel, our son, has been with us every step of the way. Our other children and our hosts were trying to help us navigate. Cars were driving down the wrong way of I-75. Ambulances, police and roadblocks every which way we turned. I felt like Alice in Out of The Looking Glass. I must admit I lost it a few times. A feeling of panic came over me. When we finally got North enough to be out of flood danger, both Mark and I could breathe again. We relished the traffic lights and lit up Wawa sign."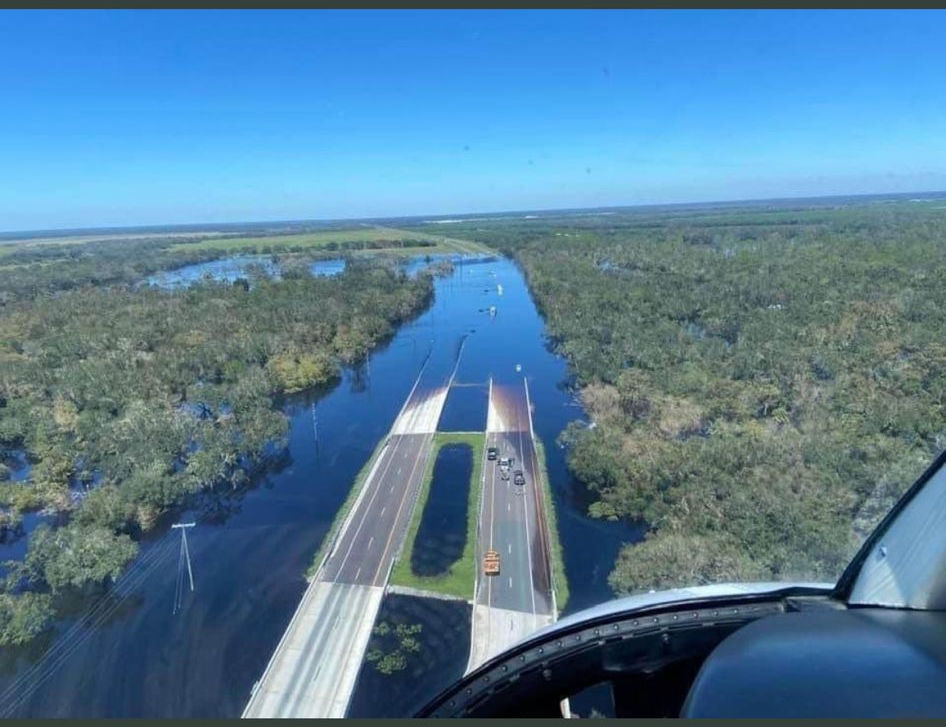 Silver Linings
We are feeling more hopeful each day.  Despite many setbacks and the realization of what lies ahead, I am less bothered by all the little inconveniences. There is so much to be grateful for including the generosity of both deed and sentiment that has been shown to us since the hurricane.  The kind messages and support keep pouring in.
I'm so happy you all and the dogs are okay! Your house protected you but the floodwaters are still traveling days after and wrecking even more havoc. I'm hearing your voice and remembering to breathe in this catastrophic time. There is much to heal and we will do the work.
Love you Andrea. Good luck with all you will need to do. You are a strong, positive, resourceful person. I know you will get through it.
I'm so sorry! I'm glad you're well. You will rebuild. We lost our home and everything in a wildfire 5 years ago and our strength got us through the months and years following. You are strong!
Love you Andrea.  Good luck with all your will need to do.  You are a strong, positive, resourceful person.  I know you will get through it.
My goodness, thank you for posting. One can never truly understand what people endure. This is certainly traumatic endurance. So glad you all came through together, even if the road ahead isn't rosy. Prayers for the next phase.
You are one of the strongest people I know.  Im confident you will reach deep inside and find strength you never knew you had.
Message after message– phone call after phone call. Even though I am exhausted, I am happy to read and respond to all your messages.
The kindness of old and new friends and many family members reminds me of how important these connections are. No small act of care is wasted.    I am learning more lessons like the value of reaching no matter what you can and can't do for each other.   It makes us all feel less helpless during and after traumatic events.  So from the bottom of my heart, THANK YOU  for all your prayers and for reaching out to me as my family continues to navigate the uncertain waters in the months ahead.  I do plan to reopen my business just as soon as I get settled and hope you will join me for some collective healing on the yoga mat and through my HeartMath work.  By the way, I love you all.  Namaste, Andrea