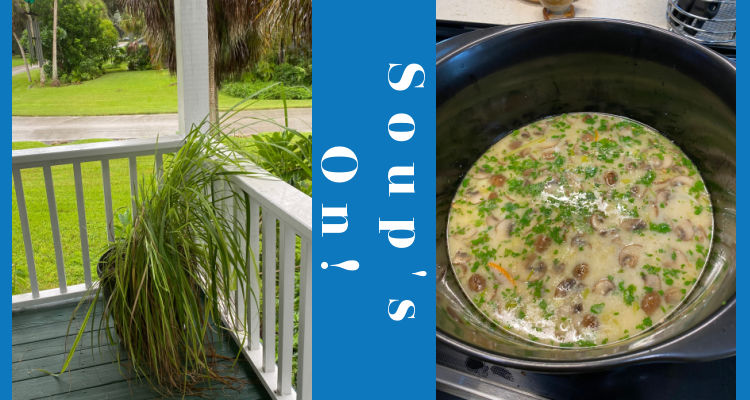 Thai Soup is So Versatile Anytime of Year
Ingredients
(Modify depending on preference and food sensitivities)
3/4 lbs of boneless skinless chicken or an equivalent amount of tofu or fish whichever you prefer.  Or just make it completely with vegetables
1 bunch of scallions
2-inch piece of fresh ginger peeled and finely chopped (I use my mini processor for both ginger and garlic and do that together)
4 garlic cloves (minced with ginger)
Shredded or cut carrots
Shredded or cut zucchini 
Diced bok choy
1 cup of sliced mushrooms (I prefer portabella, but some people like shiitake)
Miracle noodles made from Konjac root plant (available in Whole Foods or through Amazon)
4 cups chicken or vegetable stock (I use my homemade bone broth. See recipe here)
1 can organic coconut milk (I use full fat, but I do not eat grains.  If you eat grains, you might want to substitute low-fat coconut milk)
1 tbsp.  fish sauce ( I use Thai Kitchen, it is gluten-free, non-GMO)
1 tsp lime zest
Fresh minced herbs such as cilantro or basil
2 tsp cooking oil.  (I use Avocado oil and add a splash of toasted sesame oil)
Salt and Pepper and Jalapeno pepper to taste.  (I make it mild and my men add the red pepper to their soup bowls)
a couple of stalks of fresh lemongrass (do not cut it too small) You will want to remove after cooking.
Directions for Thai Soup on the Stove
 Heat Your Oil in a Large bottom pot.
Add garlic ginger mix with thinly sliced green onions to the oil.  Cook for about 5 minutes-stirring to keep the garlic and ginger from burning.
Add your other vegetables –mushrooms, carrots, zucchini, and bok choy and cook them for another 4 minutes
Add the soup stock, your protein chicken or tofu, and fish sauce and cook until the tofu or chicken is thoroughly cooked.  For chicken, it's probably about 20 minutes. When I am in a rush I use cooked chicken and I just add it to the bowl shredded right before serving. 
Add in your stalks of lemongrass.  Make sure they are larger enough to see and remove before eating.
Remove chicken or tofu and chop up or shred
Add the coconut milk, put the chicken or tofu back in, and add your herbs and lime zest.  You can add everything back directly into the bowl if you made a lot of stock.  
Just heat things up, remove the lemongrass, and serve the soup with the lime wedge.
Have the salt, pepper, and other spices on the table for your family.
Follow the instructions for preparing the miracle plant-based noodles.  Add them directly to the bowl and pour the soup over it. 
Many recipes I have seen add coconut milk sooner to the soup, but I do not add until the very end of my cooking.   I find it is fresher this way.  When you refrigerate your soup,  the coconut milk will solidify, but it will still taste yummy each time you heat it up.  Eat within a few days or freeze for later.  Please let me know if you make this recipe and any modifications you made and love!
Eating for Health and Happiness also includes just a touch of love!!!