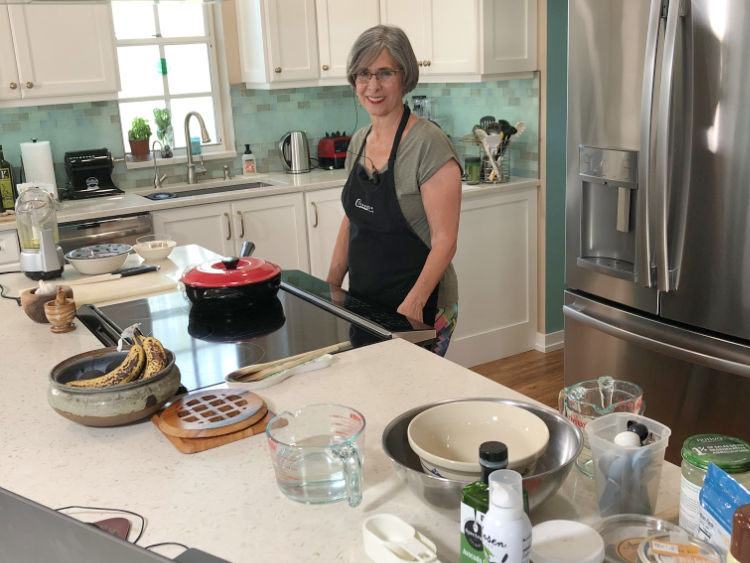 Is It Possible to Cook Great Healthy Meals if You are Busy!
A friend of mine this past week said to me: "You must spend hours in the kitchen cooking all those healthy foods you make." And she added, "I don't know how you do it in the midst of everything else you are doing."
This got me thinking.  Yes, I spend a lot of time in the kitchen, but most of that time is at my computer writing, preparing to coach people in HeartMath, creating curricula, and teaching online.  I sometimes move up to my bedroom to teach yoga and coach health as well, but I really do not spend hours on end cooking and baking. 
Here are a few things I have learned that have simplified the preparations for great, nutritious food.  Like anything else in life, at first, it might seem a bit overwhelming and complicated, but the more you practice, the quicker and easier it becomes.  In fact, this past week, I pulled together the meal pictured below in less than 45 minutes.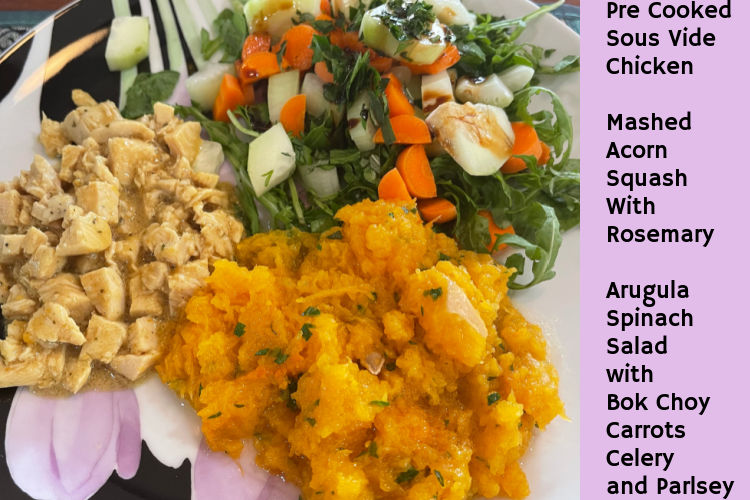 8 Tips to Shorten Kitchen Time and Make Super Healthy Yummy Meals
Buy some pre-made dishes: If you are willing to read labels, you can purchase healthy pre-made foods that you can make even healthier by adding some organic fresh vegetables and herbs. If you are not a vegan, one of my favorites is a clean, organic if you can obtain it, pre-cooked chicken breast. These are my go-to for having a clean source of protein to mix with vegetables etc. I don't always use the sauces that come with the chicken because some of the ingredients do not work for me.
The Right Equipment: If you have or can afford to get an instant pot, it is well worth the money. Having the right equipment makes working in the kitchen so much easier.  My other go-to tool is a food processor—a mini one works fine for most needs, but I love the larger one I bought recently because it can handle more food and chop it very finely.  I also use a hand vegetable spiralizer. The other equipment I use daily is the Vitamix.  I blend soups as well as make smoothies in the blender. Most of my tools have lasted a long time with the proper care and cleaning. I am now looking into an air fryer.  I have a birthday coming up.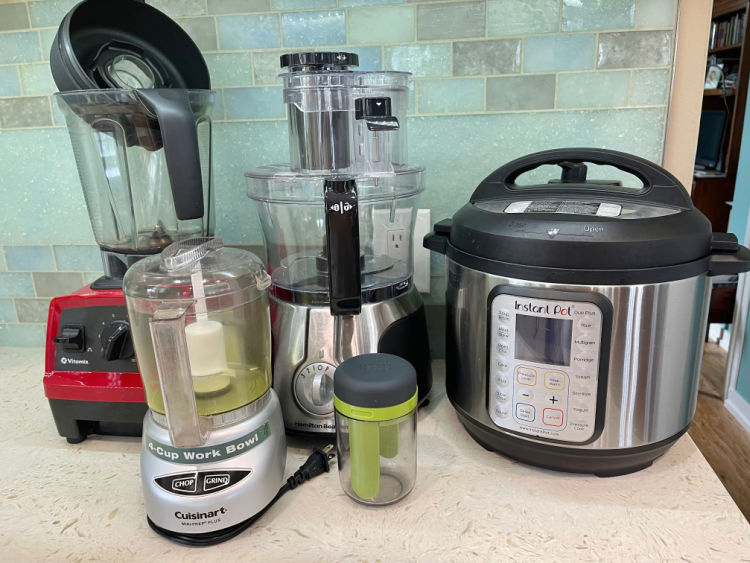 8 Tips Continued
Some basic knowledge of food combining and cooking chemistry: Learning a bit can go a long way. For instance, understanding that some oils like Olive Oil should not be used for cooking because they have a low smoke point and change their chemistry when heated.  High-temperature oils for cooking include Avocado Oil, Ghee, Coconut Oil, and if you don't have lactose intolerance or heart issues, butter.  As far as food combinations, being mindful that each meal includes healthy fat, fiber in the form of vegetables, protein and healthy carbs which can also be a healthy vegetable or fruit.  Processed carbohydrates that we have come to crave are not necessary even though they taste good.
Understanding Substitution is not deprivation: Over the years, I have found so many ways to feel satiated without the foods that are bad for my health. Here is just a sampling– Miracle Noodles which are made from roots, beet chips or rutabaga fries which I make instead of potato chips or fries.  Mashed butternut squash instead of mashed white potatoes. I also make lots of yummy sweets without cane sugar like date balls, sugar-free grain-free banana bread and my latest favorite, homemade grain-free with minimal coconut sugar blueberry muffins (click here for the recipe).  I also eat cassava root chips cooked in Avocado or Coconut oil.  And I use organic rice paper to make simple veggie or shrimp rolls (recipe coming next week).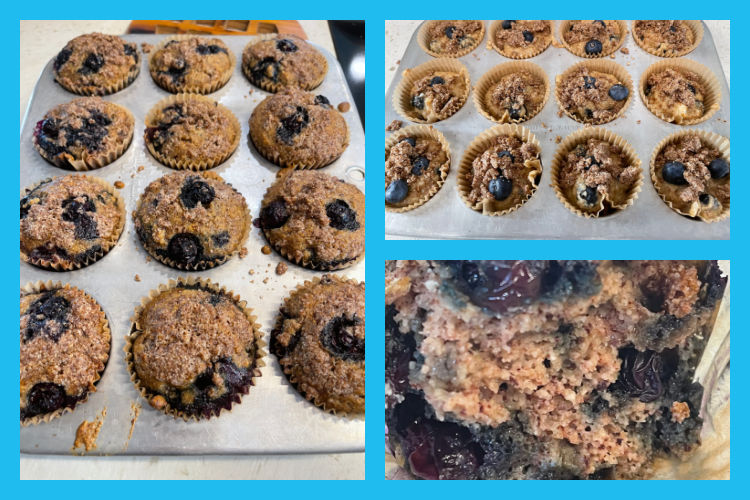 8 Tips Continued
Batch Cook: I am sure you have heard this one before, but it works. Below check out the short video showing several little kitchen projects I had going on at the same time while dancing around the kitchen getting exercise.
Pre-cook: Sometimes I prepare my vegetables in advance or make the bone broth (recipe in my blog here) and refrigerate part of it and freeze part of it so that I always have the makings of a meal.  From one batch of bone broth, I can make squash, carrot, sweet potato soup, or Thai Chicken Coconut Lemongrass soup in less than an hour.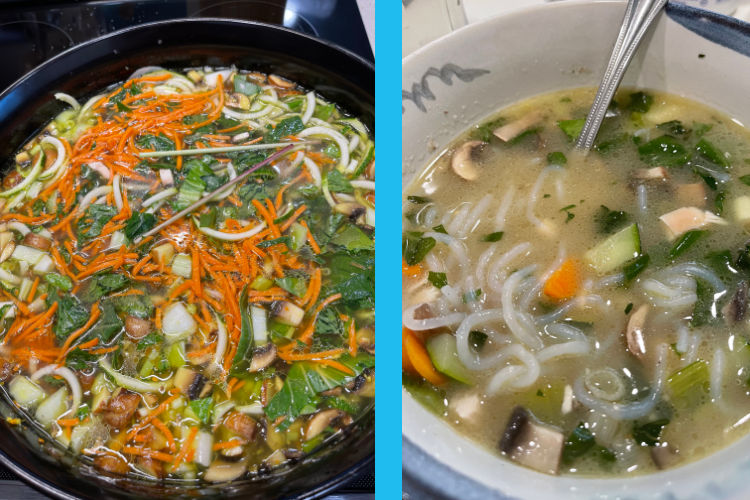 8 Tips Continued
Learn how to stir fry your vegetables: A well-seasoned wok is great, though you do not need a special pan. You will need to get the pan to high heat so that you can quickly cook your vegetables lightly. Once you cook your vegetables in this way, they can be put in a soup, or in a frittata (if you eat eggs) or as a side to literally every dish. You can even freeze it and defrost it later for your meal. Stir fry vegetables are just a bit tastier than steamed vegetables.  Stir-frying and adding different homemade sauces might keep you in the kitchen without getting bored with your food.
Make it fun:  When I cook, I put on great music, talk to my mom in Heaven and focus on the love that I am adding to every dish. I also think about the exercise I am getting as I dance around the kitchen.
When the pandemic began, I realized that it was an invitation for me to get serious and creative in the kitchen.  Now it is such a habit, I cannot even imagine getting food that tastes as good as my own in a restaurant. My husband feels the same. For those of you who reside in SW Florida, if you know of an all-organic restaurant that is full of people who put the extra ingredient of love into and will work with all my food sensitivities and can guarantee that I will not have to wait in line or sit near people talking too loudly, let me know and I will consider going out to eat again. LOL