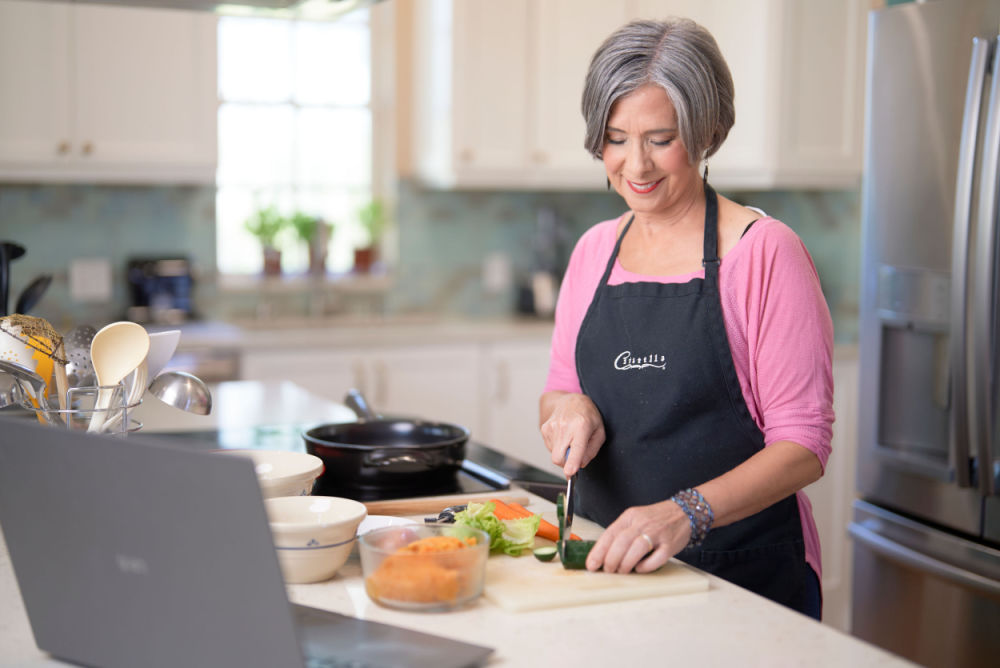 I Used to Think Eating an Applebees Oriental Chicken Salad Was Healthy!
I wasn't always a cook.  In fact, when our children were small and I was teaching full time and Mark was working full time, our family ate a lot of premade food, pasta and my favorite, Applebee's Oriental Chicken Salad. Now that I understand how food affects our health and mood and how rewarding cooking can be, I am sorry I did not discover my kitchen sooner.  Oh well, we all have our journeys!  I just hope my mom is smiling down from Heaven as she watches me navigate the wonderful world of preparing delicious healthy foods.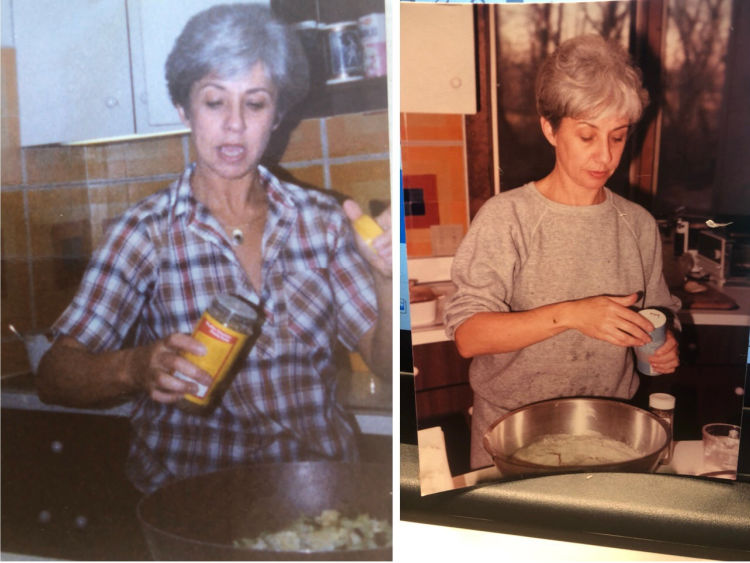 What I learned from Mom and what I learned from being sick!
My mom was always cooking and encouraging me to cook for my family.  She made it an art. She introduced us to many exotic and delicious bitter greens like broccoli rabe and arugula. She made her own breads, pizza dough, bagels and even pasta.  She did not scrimp on ingredients. However, she did not have information on the dangers of pesticides, so she may have overloaded her body with them. There is interest in the research community to investigate the connection between exposure to toxins and the rise of Alzheimer's Disease.  If you think about it, it makes sense. The brain forms plaque to protect itself from chemical exposure.  I am not saying this is the only factor, but I do not disregard this risk in my lifestyle and cooking choices.
When my mom passed from Alzheimer's four plus years ago, I used a good part of my inheritance to redo our kitchen.  I designed a kitchen that my mom would have loved. These days, I cook five to seven days a week in this kitchen.  And as I prepare my foods, I feel my mother's loving presence.  While I have changed out many of her recipes to consider what I know about health and managing chronic illness with food, I use many of her techniques and sage advice too!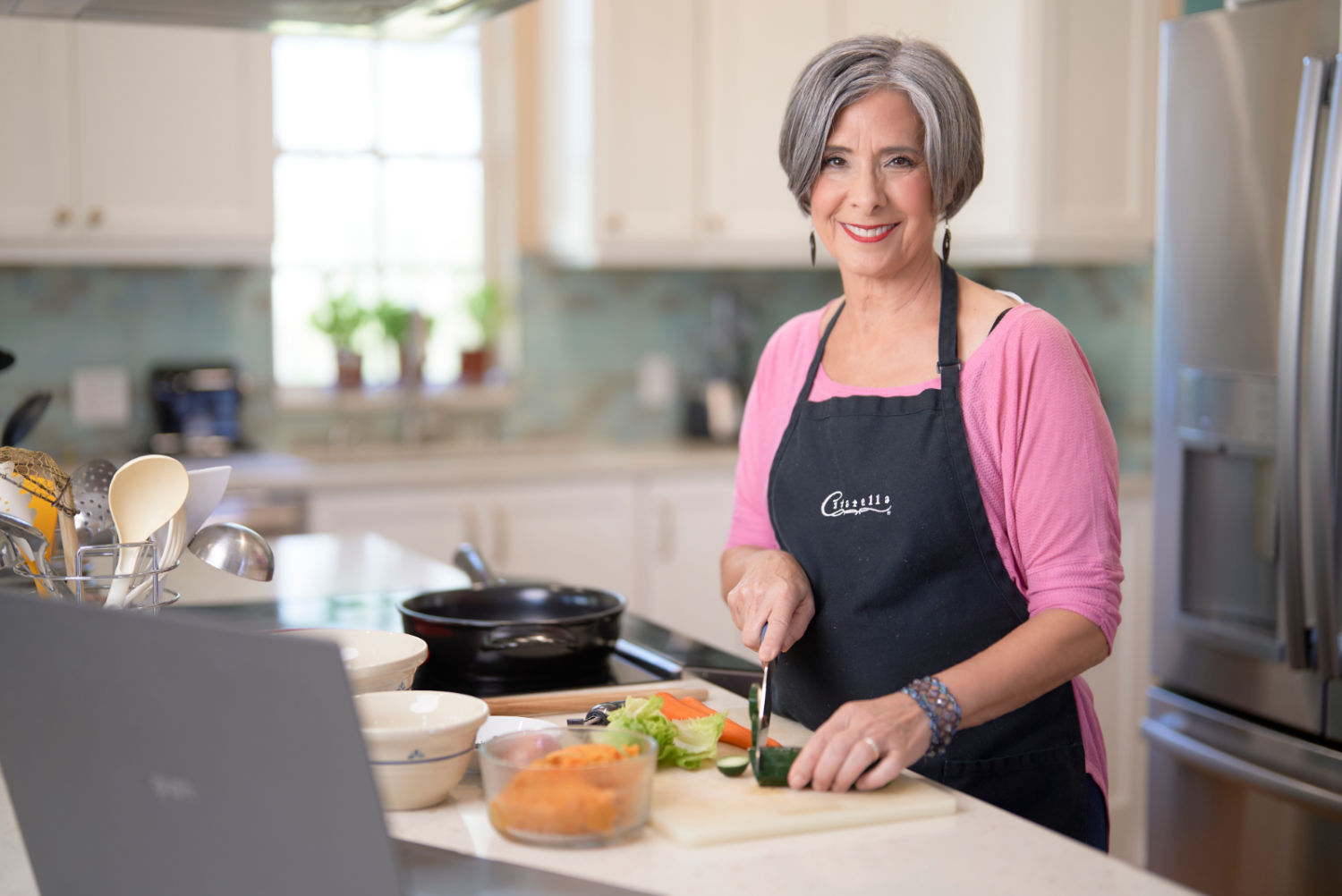 Mom's Practical Tips for Cooking and My Recipes
When making pesto, if you want it to last longer, don't add the oil until you are ready to eat the pesto.  I put my pesto on zoodles or spaghetti squash or Miracle Noodles.  Click here for the pesto recipe.  I don't use cheese (if you use cheese, add that at the last minute too because the oil and cheese are more likely to go rancid than the herbs and nuts).  Pesto can easily be batched and prepared for busy households.
If you use a garlic press, don't take the skin off the garlic when pressing it.  If you leave the skin on, the garlic will press through without the skin and the press will be easier to clean. Pressed garlic tastes differently than chopped garlic.  It is actually a bit stronger.
Mom always taught me not to waste, so she showed me how to turn a roast chicken into three additional meals, including a bone broth. I do not think bone broth was a "thing" when she was cooking, but now we know how helpful bone broth is for gut healing. Click here for how to make a bone broth from the chicken carcus.
When cracking eggs, use your finger to scrape out the inside of the shells so you do not waste. I do use eggs in lots of food preparation, but I also found a few good egg substitutes for baking my grain-free breads.  Click here for those recipes which are all grain-free and can be made with or without eggs.
When measuring flour or baking soda or any dry ingredient, use a flat knife to scrape at the top to get exact measurements.  This technique is helpful in making the almond grain-free yummy biscotti that we have been enjoying this week.  Click here for the brand-new recipe.
Mom also weighed her rolls so they would be the exact same size when baking.  While I do not follow this advice, I do eyeball my yummy Brazilian sweet potato rolls to that end.  Click here for the grain free Brazilian Roll recipe.  Note you must use the Brazilian cassava flour.  Our cassava does not work with these recipes.  The correct flour can be ordered through Amazon.
Some Things Mom Did Not Know About Cooking Healthy Foods!
Choose the right oils based on their smoke points.  Olive Oil has a low smoke point, so do not cook with it.  Instead, use it on salads and in sauces like pesto that are not cooked.  Avocado oil, coconut oil and ghee (clarified butter) have the highest smoke points and can be safely used and heated at higher temperatures.  Don't pick an oil that does not smell like the food from which it comes.
Line older metal pans with parchment paper to keep the metal from disintegrating and getting into your foods.  Don't ever use aluminum foil for cooking if you are worried about your brain health.
Buy organic if you can and if you cannot, wash off your fruits and vegetables – first with white vinegar and then water.
Cook for taste but also with an understanding of how the foods affect you.  How do you know how foods affect you?  Keep a food, mood, poop journal.  After you eat something, notice whether you have postnasal drip, a headache, body aches or fatigue.  Also track your ability to go to the bathroom based on your diet and make changes. You should be pooping daily!
Each one of us has unique body chemistries, likes and dislikes, and interest in cooking.  But I can tell you that cooking at home has made a huge difference in my health and has saved us a lot of money as well. Here are some more cooking healthy tasty food tips I wrote recently in a blog.